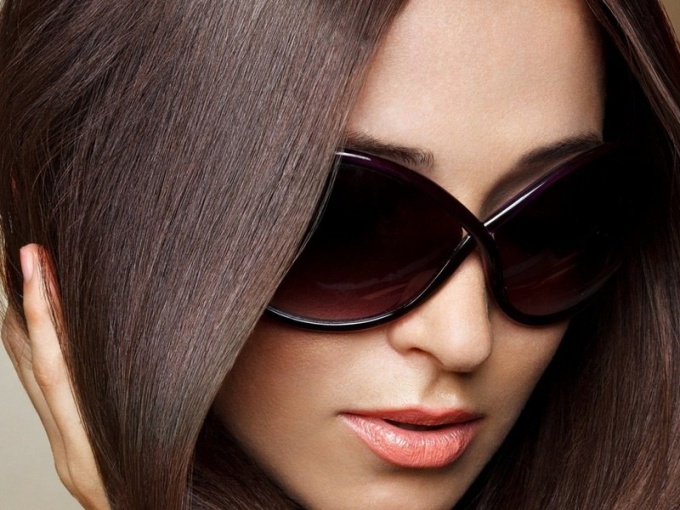 Thick hair requires a special approach. Some complex hairstyles will simply be inaccessible to them because of too much volume and weight. Therefore, for different types and lengths of thick hair, there are different types of haircuts. Thick hair is a subject of female envy, but for owners of such luxury they can become a problem. And it's not just their gravity and volume, but also the special care for them. Therefore, there are several types of special haircuts for thick hair of different lengths. With their help, you can not only make a fashionable hairstyle, but also reduce its volume and weight.
Haircuts for long hair
Laying of this type is of two types. Straight long curls look most attractive. It is this hairstyle that is most often used when creating commercials for shampoos and the like.
Curly hair can be straightened in hair salons. In addition, there are special ironing, allowing you to do it yourself. It should be remembered that too frequent straightening can seriously damage the hair. Therefore, she should not be abused.
Another kind of hairstyle is curly hair. It is also necessary not to overdo it: small curls with such length and volume do not fit. The best option would be smooth, wavy ringlets. To achieve this, you can use a special brush, which lifts the hair at the roots and combs back.
Well, finally, one of the most simple and common haircuts is a simple bang. It is suitable for hair of any length, and allows you to reduce their volume and weight. This hairstyle can begin from the back of the head. In girls with large facial features, however, it may not look very good.
Medium and short haircuts
The most comfortable length of thick hair – to the shoulders. They have a smaller volume and weight, and at the same time they allow you to make more fashionable hairstyles than long ones. The most common haircut in this case – layers. The distance between them depends on the density of the hair. Another way to make an attractive hairstyle is to finish the tips with a razor and smooth it with an iron.
As for the short hairstyle, although it seems to be the best way to get rid of unnecessary volume and excess weight of hair, not everyone is suitable. Firstly, it's not how beautiful the hair looks, but how harmonious it is for you. Secondly, long thick curls even though they require a longer and more careful care of them, but they have their own charm and beauty. Let you and spend more time on them, but you can boast of a luxurious oblique, ponytail or an exquisite and complex evening hairdo.