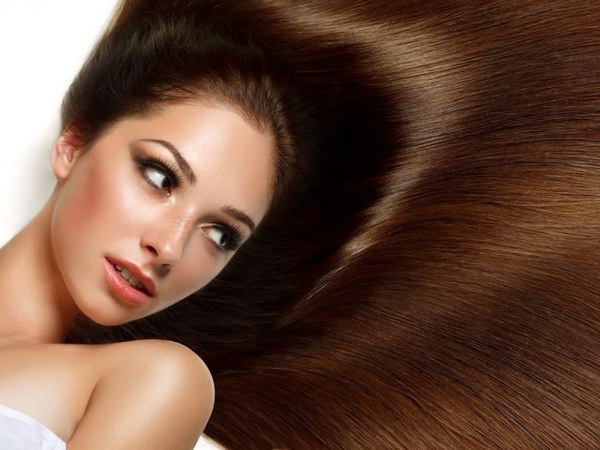 Gloss is a cosmetic procedure, the essence of which is the saturation of the hair structure with special medicinal preparations with microelements and vitamins under the influence of high temperature.
Technology of the procedure for glossing hair
Before the procedure, you should thoroughly wash your head. Then on damp hair is applied an indelible whey with protective and moisturizing properties. At the next stage, the strands are processed from roots to tips with a moisturizing conditioner that must restore the structure of the hair.
Next, curls must be dried with a hairdryer. Then the whole mass of hair is carefully worked out by ironing. The strands are ironed from the top down with an indentation one centimeter from the roots. The high temperature makes it possible to open hair scales so that the active substances in the serum and conditioner condition their structure. After heat treatment, the strands should cool slightly. Then they are washed with water and dried with a towel. At the end of the procedure, hair is applied to the nourishing serum, which prevents the appearance of split ends.
In the beauty salon, the gloss takes an average of about 40 minutes. The result should be smooth, shiny and obedient locks. The cost of the procedure depends on the length of the hair. The gloss effect lasts up to three weeks. This procedure can be carried out independently at home conditions. Many cosmetic companies produce sets of glossy products that can be purchased in professional shops or ordered online.
In beauty salons can offer several options for this procedure. With cuticular hair gloss, the restoring serum is applied not only to strands, but also to the scalp. This remedy helps to get rid of itching and stimulates hair growth. Silk gloss gives the hair a special shine and smoothness. The serum used during this procedure contains proteins of natural silk.
Indications and contraindications to hair gloss
This procedure is recommended, first of all, to the owners of damaged, brittle strands with split ends. Girls and women with wavy and curly hair can use the gloss to make their locks more obedient and easy to lay down. Also, this procedure is recommended for those who want to protect the hair from the effects of the external environment, for example, from the bright southern sun and sea water.
Glossy can not be done if there are such scalp diseases as psoriasis, seborrhea, furunculosis and mycosis. Also, contraindications are various injuries and damage to the scalp. Do not gloss over to people suffering from alopecia – baldness. It is not recommended to perform this procedure immediately after staining or discoloration of the hair.