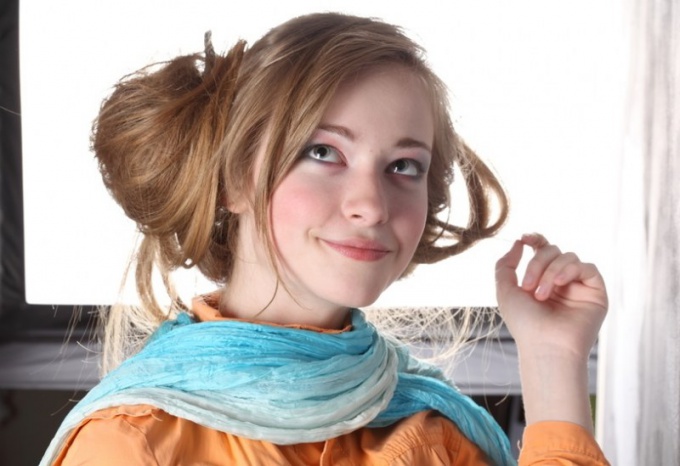 For women, hair coloring is quite common, but that's why the result is so boring. Uniformity is almost comparable to monotony. Change the situation will help coloring, a special technique that will always stay different. Colouristics allows you to color your hair at once in several colors. And the result looks very natural and this method helps not only to change, but also to visually increase the volume of the hairstyle, to give the face more clarity and even look younger. Wizards use from 2 to 15 colors, following a certain color scheme.
The hair is divided into several zones, which are disassembled into strands. After that, color the middle part with the desired color. It makes gradual contrast changes on subsequent strands in the direction of highlighting or darkening the hair. This method of dyeing has existed for a long time and managed to prove itself well. But nothing stands still and coloring is perfected by new fashionable techniques that incredibly transform women.
Ombre
The popular ombre coloring technique has gained immense popularity due to the use of this method by Hollywood stars. it two-phase The coloring method, which smoothly blurs the tone boundary in the horizontal direction. Usually from above there is a natural color, which gradually changes the tone at the bottom, and at the tips becomes the most saturated.
Especially advantageous ombre looks at the dark hair, when strands seem burned in the sun. Sometimes sharp contrast between roots and tips is not done. And to transform the exterior, color only the bottom. For example, brown and hazelnut hair is picked up with a nut and coffee shade, which guarantees shine and multifaceted color.
Bronzing
Fashionable way of coloring in a dark color, with the creation of natural light strands. A complex method, performed in several stages, which allows you to make not only many-sided shades, but also allows you to keep the appearance of your hair shiny and well-groomed. This is facilitated by the use of colorants without ammonia. The technique slightly resembles melirovanie, the difference is in the use of several tones, smoothly flowing into each other. The natural color is shaded for its more contrasting and healthy look. As a result, hair is beautiful overflow, and a girl can safely consider herself a blonde and a brunette.
Drawing
For bold and eccentric girls, a method of drawing a drawing on the hair is developed. If you are not afraid of bright and unusual colors, use this service. First, the hair is stained with the main color. Then, using the stencil, apply the required image. It is worth noting that this technique requires an ideal performance, so choose only a well-proven professional.