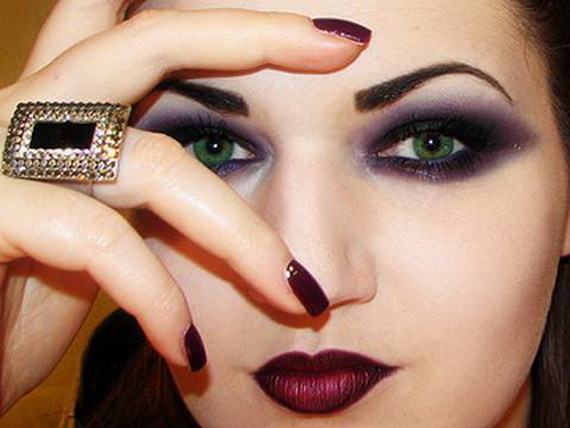 Currently, there are a lot of varieties of makeup. One of the most expressive and at the same time bewitching its gloomy attractiveness is Gothic make-up, without which the Gothic image can not be considered complete.
In order for makeup to be truly gothic, you must follow certain rules. Unlike the make-up of the classic, traditional, which involves focusing on one part of the face, when either the eyes or the lips are allocated, this kind of makeup, unlike all the canons, suggests making the eyes and lips brighter.
And, of course, pale skin can be called a visiting card of Gothic make-up, as Gothic make-up is often resorted to by those who admire gloomy romance, Gothic culture, dark aesthetics and are not indifferent to the "inhabitants of other spaces", an other world full of mysteries and mystery.
Unlike traditional make-up, the use of blush in Gothic make-up is excluded, cheeks should be as pale as the basic skin tone. Before applying makeup carefully disguise the existing flaws, then use a tonal cream of light shade, a light powder to give your face a pallor. When the basic tone of the skin is ready, you can start make-up. For the eyes, dark shades of shadows are used, preferably matte textures, because the shine in this case will be redundant. Optimal colors will be dark gray, graphite and black shades, through which the eyes are highlighted. You can also use the eyeliner to fix the result.
Mascara is used exclusively in black, it is possible to dye eyelashes in two or three layers, which will emphasize their splendor, giving the look expressiveness and languorous appeal. As the color of lipstick for the Gothic style, the scarlet shades are preferred, because the bright red shades resemble the bloody color that vampires like to leave their shelter at night and dominate in the stillness of the night.