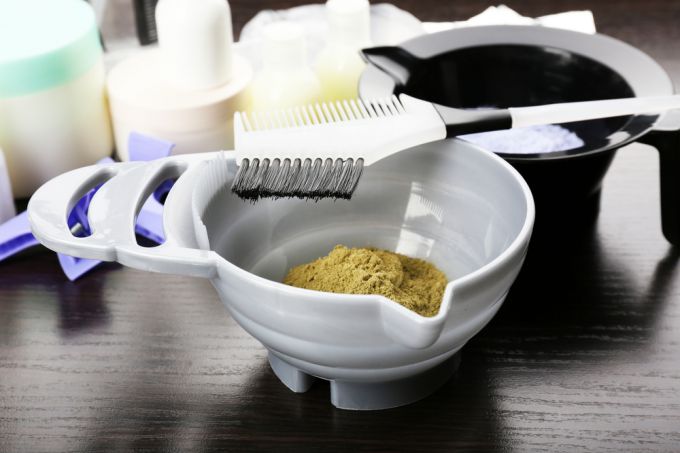 To create your unusual shade of hair, not like the standard tone, you need to buy professional tools. They allow relatively safe for strands to mix colors and create new shades. For the most successful result it is necessary to take into account the condition and structure of the hair, their initial color, the sensitivity of the scalp and the time that has elapsed since the last painting. If you mix the shades of colors in Home conditions, you can always get a sudden color that was not planned. To avoid this, you must adhere to a number of rules.
Во-первых, категорически нельзя смешивать оттенки различных производителей, поскольку у каждого своя палитра цветов. Если цвет на кончиках волос и у корней разный, то в первую очередь нужно выровнять тон по всей длине. Иначе после окрашивания также получится разница в оттенках. Стоит помнить, что один и тот же цвет на разных типах волос может выглядеть совсем по-разному, а его насыщенность зависит от времени выдержки.
First you need to figure out the numbers marked on the box with the paint. If it is professional, then, as a rule, the first digit means the level of luminosity of the paint (tone). Usually this is from 1 to 10, where 1 is the darkest tone, usually black, and 10 is the lightest blond.
То есть, 1.0 означает чистый черный цвет, 3.0 – темно-коричневый. Если их смешать, то получится тон 2.0, означающий очень темный коричневый оттенок, практически черный.
It is important to remember that a darker tone is always muffled by a lighter tone. And to make the shade lighter, you need to take the paint on 2-3 tone below.
Shades play an important role. They are marked by the figure that stands after the point. That is, the first digit is the base shade, and the second one is the additional one.
К примеру, краска 7.13 будет русого оттенка с пепельным (1) и рыжим (3) отливом. Если смешать этот цвет с 7.3, то в результате получатся русые волосы с элементами рыжего и чуть сглаженные пепельным. Для удобства смешивания у каждого изготовителя красок для волос есть свои таблицы цветовых соответствий. Их легко найти в интернете.
For example, the table The auxiliary tones (the number after the dot) looks like this: 0 is the natural tone, 1 is the ashy tone, 2 is the matting tone of the greenish hue, 3 is the golden-red tone, 4 is the copper tone, 5 is the red tone with the lilac tinge, 6 is the purple – blue tone, 7 – red-brown tone.
If you mix 2 and 3 shades, then the output will turn green. If you connect 2 and 4, the result is a rich orange tone.
The mixing of paints is carried out as follows. First of all, to implement the idea will need dishes. Glass or plastic, but not metallic. It should be understood that then it will be undesirable to use this dish for food. Also need gloves and a brush.
To begin with, it is necessary to mix one paint in the mixing bowl according to the instructions, the other in the other. Only then can they be combined and mixed together. It is done by a brush in a spiral and as it is possible more carefully – that the color everywhere turned out to be uniform. Then you need to apply the paint to your hair and leave it for the time indicated in the instructions.
Mixed colors can not be stored. In 30 minutes, the mass reacts with air and deteriorates. Therefore, the entire mixture should be used immediately.
Before mixing paints, you should carefully study their composition. That incompatible or too strong components did not do much harm to hair.