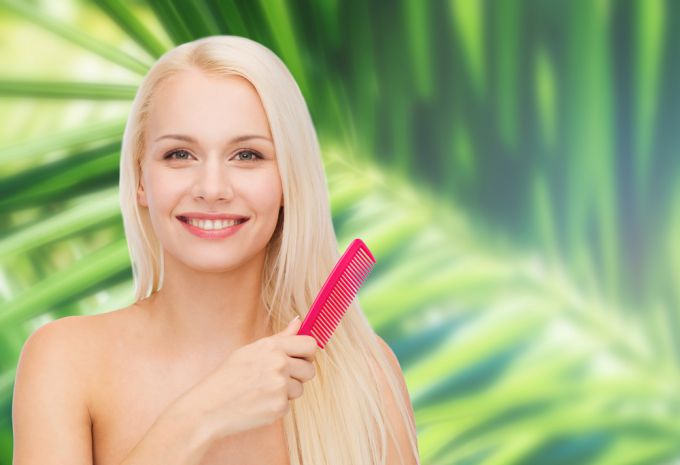 The gel mask is also called "home lamination" of hair. It is especially useful to women with thin, brittle, split and unruly hair. The effect is noticeable after the first week of application. In addition, gelatin masks are easily applied and easily washed off hair. Gelatin is a natural callogen released from the connective tissues of animals, namely bones, tendons, cartilage and skin. It contains valuable substances for hair – calcium, iron, dietary fiber, proline, protein.
Применение маски на основе желатина дает эффект биоломинирования. Каждый волосок обволакивается невидимой защитной оболочкой, которая не только защищает волосы, но и питает их благодаря входящим в состав желатина веществам. Она защищает от вредного воздействия плоек и утюжков. Структура волос восстанавливается, запечатываются ломкие и секущиеся кончики, волосы становятся послушные и объемные, легко расчесываются.
Mask with egg and gelatin suitable for all types of hair. To make it, you need a small bag of powdered gelatin and chicken yolk. Gelatin mixed with yolk and three tablespoons of shampoo. Stir well and leave to stand at room temperature for half an hour. A ready mix to distribute from roots to tips of hair, to wrap up with polyethylene and a towel. Rinse with 30 minutes with cool soapy water. This mask is recommended not to be applied more often than once a week.
For hair prone to fat, it is better to use the whole egg.
Good reviews имеет маска на основе желатина для сильно поврежденных и ломких сухих волос. Столовую ложку порошкообразного желатина размочить в чашке теплой воды, добавить любого косметического эфирного масла 5?10 капель и чайную ложку яблочного уксуса. Полученную смесь оставить на 30 минут. Перед нанесением волосы необходимо вымыть, маску наносят минут на 15?20. Обильно смыть прохладной водой с шампунем.
The mask is good to add orange or lemon essential oils. They not only benefit, but also give the hair a pleasant citrus smell.
For greasy hair, you can make a gelatin mask with lemon. To do this, mix the juice of half a lemon with a tablespoon of powdered instant gelatin and allow to stand until full swelling. Before applying, add a little shampoo. Mask to keep on the hair for about half an hour, then carefully wash your hair with warm water.
Gelatine mask on herbal infusions well revitalizes, gives shine and improves the structure of the hair. Prepare a herbal decoction of chamomile flowers, nettle leaves and mint. A tablespoon of gelatin to pour a glass of warm broth, add the shampoo and insist until it swells up. Mask the hair on and hold 40 minutes, then wash the hair with warm running water.
Decoctions can be used different depending on the effect that must be obtained from the mask. From the deposition it is better to add a decoction of nettles, burdock root, from fatness – sage, calendula, St. John's wort, dandruff decoction will suit from dandruff.
Women using gelatin masks noted a significant improvement in the hair condition. They have become more voluminous, shiny, silky and obedient. The effect of lamination is noticeable, but it does not last as long as professional and is washed off after another washing of the head.