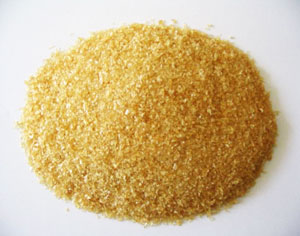 Gelatin – a product obtained by processing collagen of animal origin, is actually a protein collagen, partially hydrolyzed. Such chemical treatment facilitates the penetration of the substance into the hair and the upper layers of the skin. Gelatin restores the structure of the hair, improves the appearance and gives shine, and also increases the volume and density due to the thickening of the hair. A gelatin mask for hair is also called lamination in domestic conditions.
Mask composition: gelatin (in dry form) – 1 st. a spoon.
Gelatin is diluted in water in the ratio 1: 3. To avoid lumps, the water must be cold. After half an hour, the mixture should be heated in a water bath, stirring constantly, but do not bring to a boil. If desired, you can add shampoo or hair balm to the resulting mixture, this will facilitate combing after the procedure. The mixture should be slightly cooled and applied to clean hair along the entire length. The procedure time is 10-15 minutes, then the mask needs to be washed off. Course – 10 procedures. Contraindications to the use of a mask of gelatin is not present.
Collagen strengthens the skin and nails, forming on their surface a film that helps to preserve moisture and reduce its evaporation.