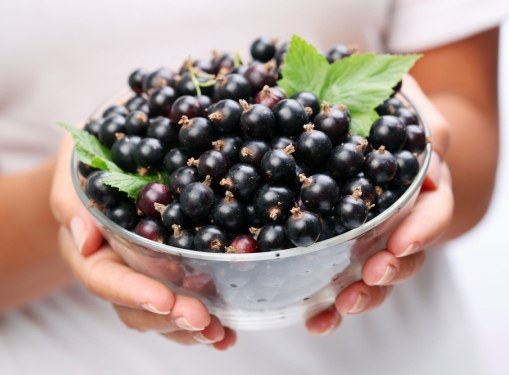 Currant masks are useful for any type of skin. They saturate it with vitamins and trace elements, and also impart a dullness, elasticity and smoothness. Currant is especially useful for owners of oily skin, because it effectively reduces and deeply cleanses the enlarged pores, and also regulates the work of the sebaceous glands. The attractiveness of these masks lies in their simplicity and accessibility.
Самый простой и быстрый способ сделать маску из смородины – это размять несколько ягод и наложить их на лицо ровным тонким слоем. Держите кашицу в течение 10-12 минут и смойте теплой водой. Для приготовления данной маски подойдет любая смородина.
Чтобы сделать очищающую маску для жирной и пористой кожи, разомните до пюреобразного состояния 2 ст.л. свежих ягод белой или красной смородины. Смешайте полученную массу с небольшим количеством картофельного крахмала или пшеничной муки. Состав равномерно нанесите на чистое распаренное лицо и по истечении 12-15 минут смойте холодной водой. Данная маска заметно сужает и очищает расширенные поры, а также избавляет от жирного блеска.
Для сухой кожи подойдет следующий рецепт маски домашнего приготовления: разотрите до однородной консистенции 1 ст.л. ягод черной смородины и творога. Готовую массу разбавьте 2 ст.л. слегка подогретого молока. Смесь нанесите на лицо ровным обильным слоем и смойте по истечении 20 минут. Маска, приготовленная на основе черной смородины, великолепно увлажняет и питает кожу, что придает ей удивительную гладкость и упругость.
Owners of normal and combined skin type can safely use a mask from 1 st.l. crushed fresh berries of black currant and the same amount of natural yogurt. The mixture should be applied on the face with an abundant layer and hold about 15 minutes.
Для ухода за проблемной кожей приготовьте маску из взбитого сырого яичного белка, 1-2 ст.л. размятых ягод черной смородины и такого количества молотых овсяных хлопьев. Все компоненты тщательно разотрите до образования однородной массы и нанесите на лицо. По истечении 12-15 минут умойтесь холодной водой. Маску нужно повторять 2-3 раза в неделю, чтобы добиться видимого результата.