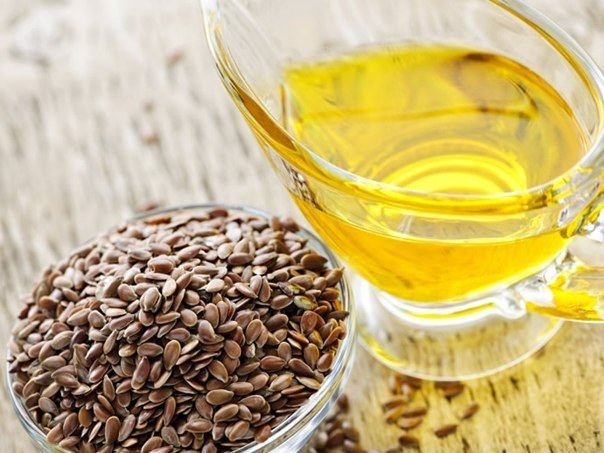 Flaxseed oil is obtained from flax seeds by cold pressing. Thanks to the unique healing properties and vitamins A, B, E, F, it is widely used for the care of dry, damaged and depleted hair.
The use of linseed oil for scalp
Flaxseed oil positively affects the condition of the scalp. In particular, it eliminates itching, irritation and dryness and saturates the skin with all the necessary nutrients and active substances.
Despite its heavy and greasy consistency, flax oil is used for the treatment of dandruff and increased fatness of hair. It helps to stabilize the work of the sebaceous glands and reduce the amount of sebum produced.
In addition, linseed oil is good as an anti-hair loss remedy. To achieve the result, it is not necessary to wait for a long time, the main thing is to use the oil regularly.
Application of linseed oil for hair
Flaxseed oil can be used not only for external use, but also inside. By combining both reception options, you can achieve greater effect. Use oil from flax every day for 1-2 st.l. to improve the condition of the hair.
For dry and damaged hair, flaxseed oil is recommended to be used in its pure form. You need to use it just like any other vegetable oil. Before use, it needs to be slightly heated, then rub into the scalp and distribute along the entire length. It is more convenient to do this with slightly damp hair. Carry out this procedure on the day when you need to wash your head, preferably for 1-2 hours before washing.
Rub the oil into the roots of the hair with the tips of your fingers, and to distribute it along the entire length, take a comb with sparse teeth. Then wrap the hair with a plastic wrap or put on a plastic bag. Top with a towel. This will enhance the beneficial effect of the oil. To completely wash the oil from your hair, you will need to wash your head with shampoo 2 times. Carry out this procedure is recommended 2 times a week for 2-3 months.
If the hair does not need additional nutrition, you can grease with linseed oil only the tips of the hair. This will strengthen and glue the split ends. You can add a small amount of oil from flax in a regular hair balm. This will make the hair more shiny and smooth. In addition, this balm can be applied to the roots to prevent hair loss.
Many girls notice that after using flaxseed oil on the hair there is an unpleasant smell. To avoid this situation, add 3 drops of some essential oil, for example, myrrh, ylang ylang, chamomile or incense.