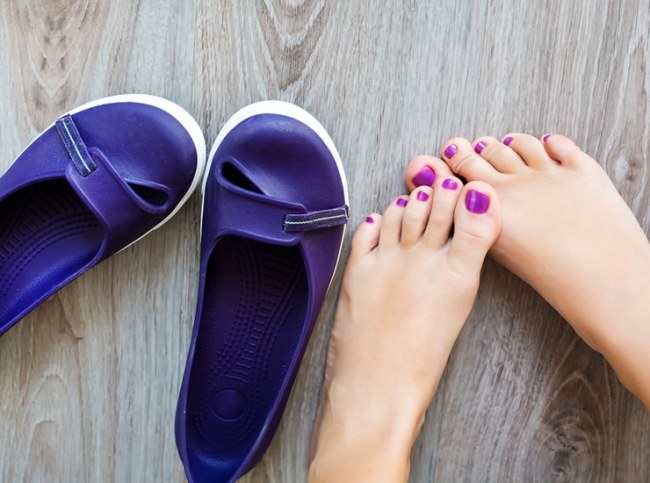 In summer, a vivid pedicure with unusual color combinations enters into fashion. 2014 year was no exception. Especially popular are red and orange varnishes, but blue, green and blue also do not give up positions. For lovers of creative pedicure are designed a variety of patterns, decorative stickers and colored stripes.
Fashionable colors-2014
This year, cold shades have receded into the background. The most popular are warm colors, real symbols of the summer. Sunny orange, delicate lemon, bright coral – such varnishes are especially adorned by sunburnt legs. With tanning, candy-pink and scarlet enamels are well harmonized, as well as a green range. Instead of the usual sea waves and mint, try more saturated shades – malachite, emerald, grassy-green.
Pale skin will go to the actual shades of red and purple, dark blue and bright cyclamen. You can try and very dark, almost black shades. Do not go out of fashion natural pedicure in calm beige and cream tones. It is especially appropriate for working days.
Current Textures and Forms
Summer fashion offers to abandon the boring mother of pearl in favor of more effective textures. Dense glossy enamel, translucent jelly, sand varnishes, resistant to damage – all these tools are widely used in pedicure. Effectively look and varnishes with a large glitter, creating the effect of shiny scales on the nails. For a greater shine and firmness of the nails, it is worth covering with a thick layer of glossy top. Apply it every 2-3 days, and your pedicure will stay fresh for 2 weeks.
Pay attention to the novelty – quick-drying varnishes in mini-bottles. With their help you can quickly update the coating by picking up the varnish for the outfit.
When choosing the length of the nails, stop at a moderate one. Nail extensions today are not relevant. The shape of the plates should be calm, especially stylish looks soft square with slightly rounded tips.
Spectacular drawings
The fashion pedicure is characterized by bold color combinations. Today, two-color variants with stripes, imitation of the French pedicure, executed in contrasting tones, a pedicure with the highlighted bright shade of a hole are actual. It is not necessary to adhere to classical combinations. Try bold combinations – for example, a duo of green and pink.
The popular stamping technique is also available for the decoration of the toe nails. You can use motifs of any complexity and style. Today, ethnic themes are especially fashionable, as well as large single prints. Very beautiful looks the picture, made with a metallized varnish – silvery, golden or bronze. Metallic is in good harmony with the tan and is combined with any summer outfits.