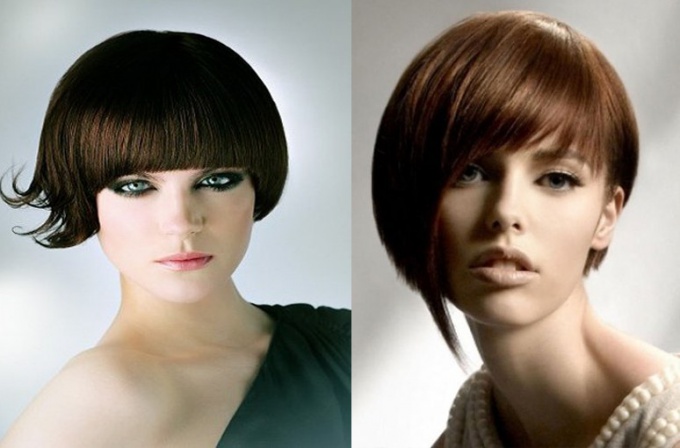 A neat hairstyle makes a woman more well-groomed and attractive. At present, long hair is especially popular, however, they do not always adorn their possessor and sometimes can visually add to her age. For those who prefer short haircuts, stylists recommend choosing a hat for a fashionable hairstyle. For its execution, the hair need not necessarily be lush and thick. This haircut will make your image more feminine, and also add to it fussy and coquettish notes.
What is a good haircut "cap"?
This haircut has many advantages. Firstly, a woman with a haircut "cap" looks much younger than her years, since the face is open, and it is often framed by playful strands of varying lengths.
Secondly, it is convenient to take care of such a haircut. Her owner can not worry about the long hair drying, as well as their cross-section. Short strands require less nutrition, and the hairstyle looks well-groomed even with minimal care. Thirdly, the haircut "cap" allows you to visually adjust the face oval: visually reduce the nose and compensate for too prominent chin.
Who is suitable for a short haircut "cap"?
Cutting the "cap" on short hair is convenient in that it fits almost everything, except for women with a narrow and chamfered chin. Thanks to the creation of the volume on the crown of the head, this hairstyle visually lengthens the face oval, which many girls aspire to because of fashion standards.
In addition, the haircut "cap" is suitable for those who prefer to shade strands of coloring agents. A "cap" for short hair is an uneven haircut, in which there are both shortened and elongated strands. The latter, which are found on the vertex, just shade the hairdressers in a more saturated color, to make the image of their client more shocking and brighter.
A haircut under the hat will suit both women of fashion who like to try on a variety of images. Such a hairstyle does not oblige to a certain style. It is an elegant and concise option.
Speaking of which, who is suitable this haircut, you can not fail to mention the figure. Thin and tall girls should avoid such a hairstyle, because it visually lengthens the growth. In combination with a narrow dress and shoes on a high platform, the effect can turn out to be negative.
But the owner of a full figure or medium build and low growth haircut "cap" perfectly suited.
Styling of haircuts "cap" on short hair
A short haircut "cap" can be laid in various ways. Of course, they are only available to those women who have relatively long strands on the crown of the head. But the girls who decided to limit themselves to a minimalist style, will have to lay their hair in only one way.
However, even in this case, you can still make some minor changes to your hair. Owners of very short haircuts under the cap can use a gel with the effect of wet hair and create a creative "mess" on the head. As a result, you get a creative hairstyle that can emphasize the vivid personality of a woman.
Those who have long strands on the crown, you can also apply a gel with the effect of wet hair. But in this case it is necessary to create not a messy, but a smooth hairstyle. To do this, lubricate the gel with moistened strands and comb them back or make a smooth parting. After that, you need to dry your hair with a hair dryer.
Another variant of styling for owners of elongated strands on the vertex is to create a large volume. To do this, apply foam to wet hair. Dry them with a round volumetric brush with short denticles. After the hair is finished, comb the hair with a comb with sparse wide teeth to create beautiful strands.