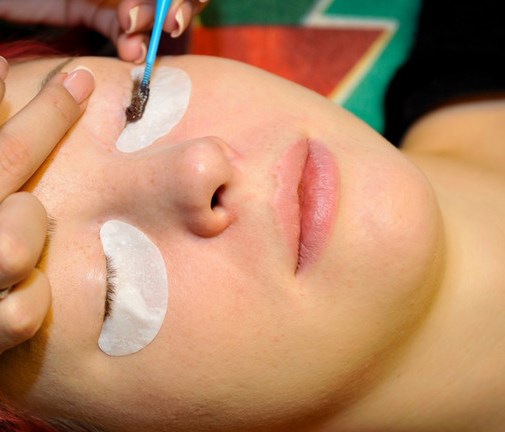 Do not always want to spend time tinting eyelashes and eyebrows. Many women prefer to stain eyelashes and eyebrows with persistent coloring substances – the effect of this color will last about a month.
If you go to the salon for some reason you do not consider possible, you can also dye your eyelashes and eyebrows in domestic conditions. But in this case, you will certainly need help. In addition, you will need to follow certain rules. Then everything will turn out fine.
Do not dye your eyelashes, if you have conjunctivitis or the eyelid has inflamed. Do not use hair dye. In its composition there are aggressive substances that do not cause harm to the hair, but eyelashes can lose or catch inflammation of the adjacent skin areas.
Do not choose a paint of incomprehensible origin or one that has expired. Be sure to test for skin sensitivity – for this, put a little paint on your wrist, hold 10 minutes and rinse. Wait about a day, if the skin does not turn red at this place, you can safely use the paint.
You will need a small container in which you will dilute the paint, you can take any material except for metal. Prepare a greasy cream for the face – it must be applied to the eyelids before painting. This will help create additional protection. To apply the coloring agent, cotton swabs are suitable. You will also need cotton wool discs, which must be folded in half to get tampons in the form of crescents.
Dilute the paint in strict accordance with the instructions. Do this right before you do the painting. Begin with the preparation of tools, thorough washing hands, removing old makeup. On the skin of the eyelids, do not forget to apply a protective cream.
Disk slightly moistened with water and folded in the form of a crescent, draw under the eyelashes. Close your eyes while the procedure is going on. It is better to tilt the head forward – so the paint will not fall under the eyelids. It's better if you get someone to help. When you close your eyes, the assistant will put paint on your eyelashes. Leave it for about 15 minutes, then rinse with warm water and dry your eyelashes.