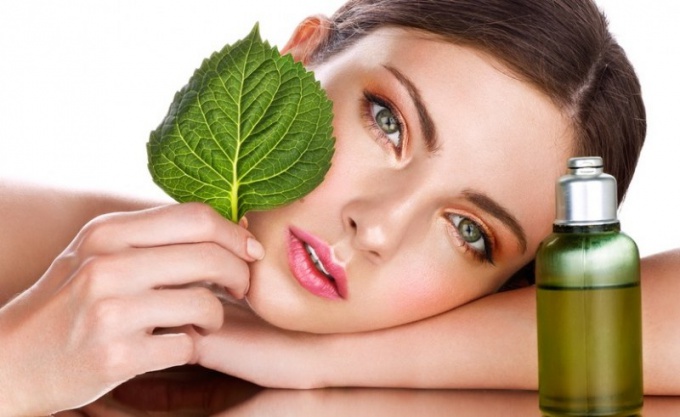 In the composition of quality cosmetics, you can often see various natural essential oils that individually or in combination with each other are able to fight a particular skin problem: withering, dryness, wrinkles, pigmentation, greasy shine or acne. Bottles with odoriferous mixtures are also sold at the pharmacy, as they can be used at home. It is important only to know their properties and what exactly the skin needs.
Instructions
Please note that ready-made cosmetics bought in the store often contain preservatives. For the most part, it can not give a guarantee of 100% of a natural product. Learn all the useful properties of essential oils to learn how to prepare facial skin preparations yourself.
Go to the pharmacy, choose those that are useful for all skin types and are basic. That is, they can add other useful ingredients to achieve the desired effect. This oil is a germ of wheat, jojoba, grape seed, shea and almond oil.
Similarly, as a base, you can use a baby cream. Do not use other creams, since the combination of chemical components with essential oils may be unpredictable. Add fragrant drops strictly according to the instructions that are attached to each bubble. Usually this is an 1-3 drop. They are enough for a single dose of the base component, cream or mask.
Now remember or determine the type of skin: normal, fatty, dry, combined, mature, sensitive, acne. Depending on the individual characteristics of the skin of the face, choose additional incenses to be added to the basic ones. For the sensitive and dry skin prone to irritation, buy blue camomile oil, myrrh, patchouli, rose, jasmine, geranium.
If the facial skin is fat, black dots, then it must be dried and the skin narrowed. At the same time, this skin needs to be moistened. Grapefruit essential oil, as well as rosemary, incense, lemongrass, mandarin, fennel, anise, lemon, lemon balm, jasmine, juniper, cypress, have all of the above properties.
For fading skin, choose wrinkle-smoothing components, as well as those capable of lifting. These are oil extracts of hyssop, basil, myrrh, geranium, rose, ylang, fennel, jasmine, juniper, neroli, anise, cypress, bigard, mandarin and lavender. All of them have a rejuvenating effect for mature skin, as well as the appearance of the first wrinkles. They are useful for adding to face masks and creams, and also for the body.
Around the eyes, use other, more gentle masks. This sandalwood oil, juniper and pine. All of them contribute to the removal of edema, help with blue circles.
Remember that some essential oils increase photo-aging of the skin. That is, when applying cosmetic products and leaving in sunny weather on the street, the skin of the face can form pigmented spots. Therefore, in the summer, exclude from use altogether all the citrus substances, as well as tangerine, rosemary, ginger, carrots, kutexa, limette, cinnamon, cumin.
From acne, add in the cream of tea tree oil, orange, cloves, sandalwood, eucalyptus, myrtle, neroli, blue chamomile, basil, cypress, lemongrass, incense. They help with any inflammation with different types of skin. Lavender helps to get rid of scars.