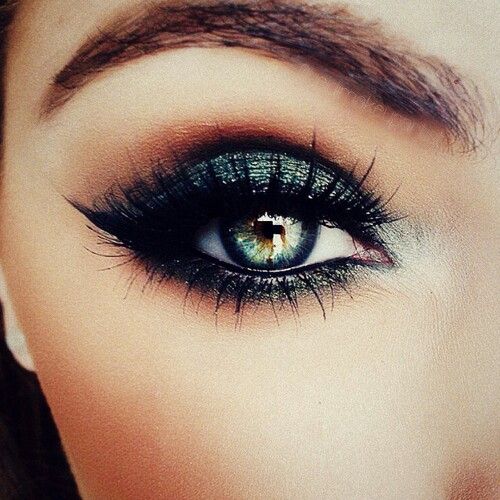 Make-up for green eyes is considered to be difficult for make-up artists. Therefore, without the advice of professionals girls can not do. Knowing how to make up green eyes, you can easily make your eyes even more vivid and expressive.
Green eyes have long been famous for their magical and hypnotic properties. In the Middle Ages, such girls were so afraid that they burned at the stake, supposedly for witchcraft skills. Time goes by, and green-eyed fear until now. They say that a girl with green eyes can charm a man with her eyes only for her beautiful, magical and unusual eyes. By the way, men call these eyes the most attractive and sexy girls.
Correctly matched and executed make-up can make the look even more magical and attractive. The main thing is to know how to make up green eyes. This color is considered the most difficult, in terms of selection of makeup. But, thanks to the advice of professional make-up artists and cosmetologists, every girl will be able to cope with a difficult task.
Choose the color of shadows
Green-eyed girls should abandon experiments in daytime make-up and stop at the green color of the shadows. But do not be upset, with the help of many of its shades you can create every day a different, new and unique makeup. Olive, light green, dark green, yellow-green, turquoise, saturated green, emerald – it's not all shades that you can use in your original eye makeup. For evening make-up of eyes, the choice of color of shadows is much more extensive. Experiment with all sorts of shades of brown. In the evening make-up for green eyes look great chocolate shade, copper with a golden tinge and light brown. And also pay attention to beige, peach and dark purple colors.
We select pencil or eyeliner
If you decide to make a make-up for green eyes using a pencil or eyeliner, then choose a dark brown or ash gray color. Black will make your eyes smaller, and distract attention from the original color. If you would like to increase your eyes, draw the lower eyelid with a white pencil. Do not forget that in order for makeup for green eyes to turn out perfectly even and beautiful, you can use the secret of make-up and apply a light foundation to the mobile eyelid. Tonalnik should be on 1-2 tone lighter than the color of your face. After 10-12 minutes after applying the foundation, you can start the main make-up of the eyes.