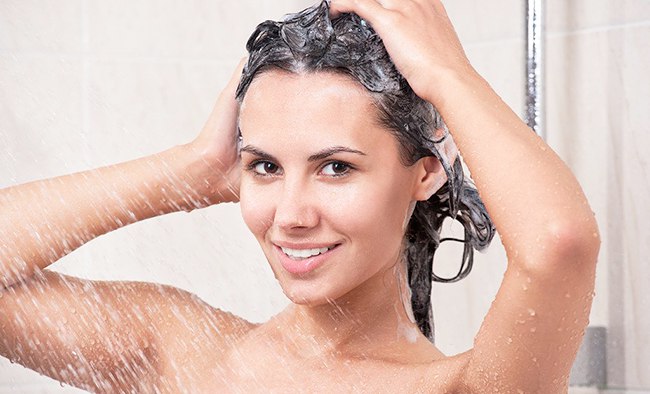 Many people in matters of beauty stop trusting large cosmetics companies. In part, they are right, because the production of any cosmetics uses a huge amount of chemistry, and it is often tested on animals, which is completely unacceptable in civilized countries. Also, many women complain of allergies to shampoos or hair masks. Thus, people begin to look for alternatives among natural products.
It is known that the head can be washed simple egg. The egg is broken into a bowl, whipped and applied to the hair like a normal shampoo. Eggs are well foamed, and also nourish the scalp. If desired, you can add there a tablespoon of cognac and a little honey, thereby obtaining a good nutritional composition. Only honey should be taken liquid, otherwise it will take a lot of time to dilute honey in a water bath.
Another alternative may be black bread, soaked in water. Foam it will not, but dirty hair laundered well. The only problem – to wash the bread from the hair is very difficult.
For oily hair is not bad to use mustard powder, just diluting it in the water from the calculation of 1 art. spoon on 2 liters. Mustard eliminates greasy shine, and hair is not so quickly dirty.
Many Ayurvedic stores sell herbal powder for washing hair. It is also diluted with water and applied to the hair. In its composition, either a soap nut or a soap tree, which grows mainly in India and has saponins that are natural blowing agents. The plus is that saponins are completely decomposable and absolutely harmless and hypoallergenic. With prolonged use, dandruff disappears, the hair becomes shiny and healthy. In addition, over time, there is no need to wash your head every day.
Decoctions and infusions of herbs also good for washing your head. It is good to use chamomile, nettle, thyme, string, bark of oak.
Colorless Henna very well can help in the natural washing of hair. In it you can add essential oils, which are not only useful, but also able to give the hair a natural pleasant aroma.
As a supplement to the black bread, you can wash your hair rye flour, diluting it with water to the consistency of gruel.
All of the above mentioned products are not exotic, many ingredients can be bought in regular stores. Of course, at first it will be difficult to switch to alternative shampoos, and they will behave unusually, in comparison with the usual shampoos, without giving much foam, but the result is worth the effort.