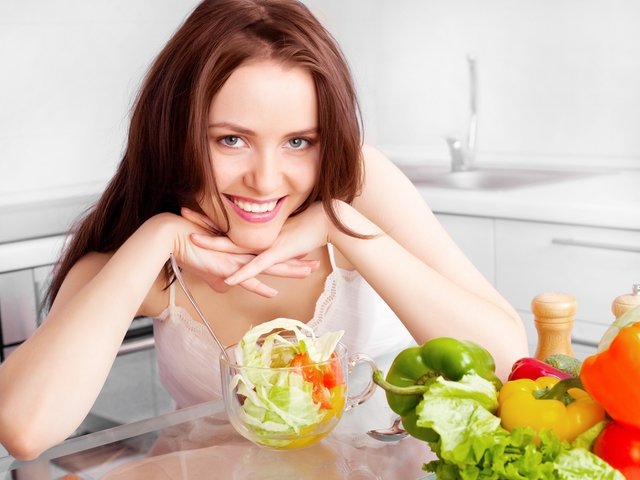 Goats and sheep are herbivorous animals. They like juicy greens and clear clear water. They will not give up grain, fruits, berries and mushrooms. This set of products is ideal for those who want to lose weight. As from cereals, vegetables, fruits, low-fat chicken breast and mushrooms it is possible to prepare the most various dishes.
Dishes for a diet on 2015 – salads
Traditional salads with mayonnaise are delicious, but very caloric. Use your favorite goats and sheep peas, carrots, dill, parsley, salad for cooking light vegetable snacks. Add cucumbers, tomatoes, corn, fresh champignons. Season salads with olive oil, balsamic vinegar. Instead of salt, use soy sauce. But the salad recipe, which you can surprise your family. This is the original papaya salad. His homeland is Thailand. There are sprouted soy, papaya, fresh tomatoes, lime.
The recipe for papaya salad:
– papaya green (2 pcs.);
– Sprouts of soy or wheat (100 g);
– Tomatoes (3 pcs.);
– seafood (boiled shrimps, mussels, squid – 150 g);
– fresh lemon grass (if any), lime, spices – a mixture of peppers.
Papaya cut into long thin slices, tomatoes – slices. Mix with seafood and add sprouts of soy or wheat. Generously pour lime juice, sprinkle with pepper and chopped lemon grass. Mix. Serve after an hour and a half after cooking, so that seafood can soak up the juices well.
Dishes for the 2015 diet – the second
The main dish of the diet should be a bird – chicken, quail, turkey. Lean meat can be baked in the oven, stewed, fried in a pan without oil. The original dish – a bird with champignons and vegetables in pots is sure to please the whole family. There are many favorite mushrooms, eggplants, zucchini, carrots.
The recipe for a bird in pots:
– Breasts or thighs without bones and fat (1 kg);
– mushrooms (fresh champignons or white – 200 g);
– Carrots (medium size – 1 pcs.);
– eggplant (medium size – 2 pcs.);
– zucchini (medium size – 2 pcs.);
– onion (2 pcs.);
– sour cream (200 g);
– spices, salt, pepper.
The bird is cut into pieces of medium size and is placed on the bottom of the pots. On it – onions rings. Then mushrooms (they need to be cut into slices). The first layer of ingredients is covered with sour cream, mixed with salt and spices. Further – carrots, aubergines, zucchini. From above – again sour cream and condiments. The pots are put in the oven for 30-40 minutes.
Dishes for 2015 diet – snacks, sweet, drinks
In addition to salads and main course, the diet can be varied with salted salmon, sliced ??fresh vegetables, pickled mushrooms, olive oil seasoned with sea kale. For sweet leave fruit, meringue, marshmallow, marshmallow. From drinks are ideal for diet and proper nutrition light herbal teas, mineral water.
For to lose weight, eat small portions of 4-5 once a day and drink at least 1,5 liters of water. Limit your meals before bedtime, and sweeten only until 12 days. And very soon you will reach the desired form.