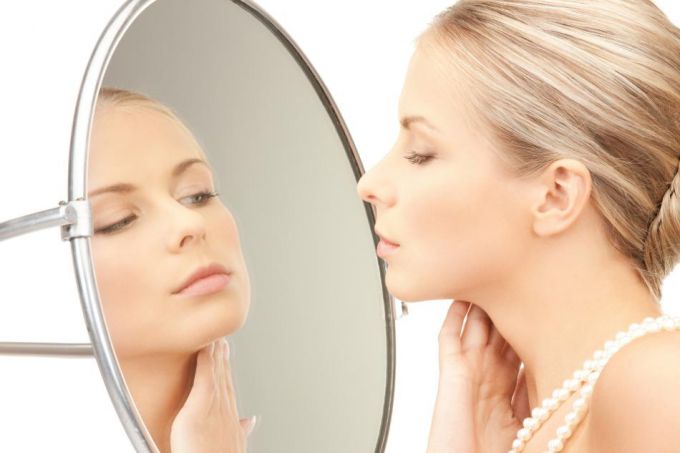 Of course, not every girl can boast of a beautiful face, clean healthy skin and well-defined cheekbones, rather than puffy cheeks. But still it can be changed.
First of all, you need to understand that sharply and concretely the individual will not lose weight. As a rule, it loses weight in the first place, but only when losing weight generally. You need to take care of your face every day, using creams and masks, as well as light stroking massage movements, you do not need to strongly press on in any case.
No methods of rapid weight loss work! Do not expose yourself to a hunger strike, this will only contribute to unhealthy skin color, dark circles under the eyes and general deterioration of health.
To adjust the shape of the face, to the standard proper nutrition and the maintenance of a healthy active lifestyle, you need to add a few points:
1. It is necessary to get rid of stoop, because the circulatory system in the collar zone is disturbed, and hence the swelling.
2.With your favorite pillow you'll have to part, instead of it a thin orthopedic pillow.
3. Required permanent physical activity, which will not only affect the face, but also the condition of the whole body.
4. Of course, proper nutrition. This meal five times a day in small portions. Should prevail fruits and vegetables, as well as low-fat meat. Under strict prohibition of sweets, alcohol, fast food. All this causes swelling of the face. But the water should drink about two liters per day, also suitable for green tea, but it is not worth using.
5. A good addition to all of the above is a different massage and use of cosmetics.
Masks help to return the skin a healthy blooming appearance. But with the choice of such masks it is better to consult a specialist in order to avoid unpleasant consequences.
And while the desired result is not achieved, the fullness of the face will be hidden by a successful make-up and competently chosen hairdress.