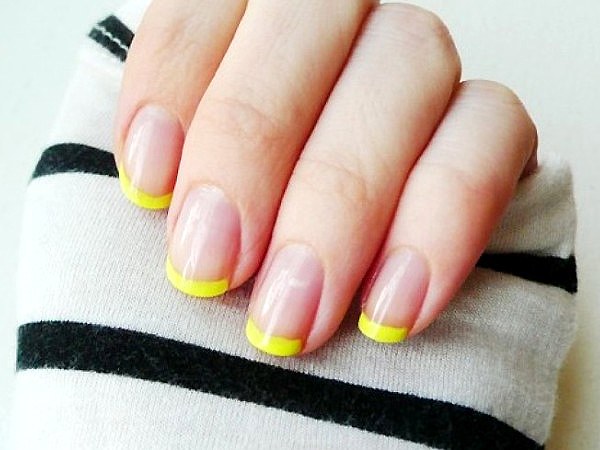 Initially, the French manicure was created to emphasize the natural beauty of nails. White "smile" and pastel color is a classic French jacket that fits any outfit. Recently, women of fashion showed that the jacket can be not only white, but also colored. And it looks very nice and stylish. A colored jacket is a kind of revolution in manicure. Once classical design became bright, bold and original. He highlights the girl from the crowd, attracts attention and refreshes the image.
Color jacket options
A colored jacket can look absolutely different, depending on the imagination and desires of its owner. It can have a glossy or matte coating, contain impurities of the shimmer or be homogeneous.
A nail plate covered with beige, cream or light pink varnish, and the bright tip of the nail in the form of a smile is an option close to the classics. Bold girls can afford a combined jacket, combining several multi-colored "smiles", superimposed on each other in the form of a rainbow. One more original variant – a nail plate of one color, and an end and a bed – of another. This is a combination of French and lunar manicure.
Popular in the summer season neon shades can be safely brought into the manicure. Cover the nails with a neutral bodily varnish, and for a "smile" choose a neon green, pink or coral tone. Such a manicure can be completely independent, it is not necessary for him to put on things of flashy colors.
Fans of calmer shades can make a pastel colored jacket. In this case, the manicure will remain stylish and original, but at the same time will be restrained. You can make your nails colorful. The main rule: they should harmoniously combine with each other.
A colored jacket is also appropriate for a wedding. Especially if the celebration takes place in a particular color scheme. Cover the nails with a neutral body tint, and make a "smile" in the tone of the basic concept.
How to make a color jacket yourself
The technique of a colored jacket is not much different from the classic French manicure. The only thing, its implementation requires increased concentration, because correct bright flaws is much more difficult.
Apply a transparent base coat to the nails and let it dry. If you are not a professional, use the special strips for the French manicure. With their help, cover the tips of the nails with a colored varnish. Wait a few minutes and carefully peel off the strips. Then apply a clear varnish on the entire nail plate. Such a sequence will make the bright color more calm, and the border smoother. However, if you want, you can change the last two steps in some places.
After the drying of all layers of varnish, cover the nails with a fixer. It will help prolong the life of your manicure and give it a glossy sheen.