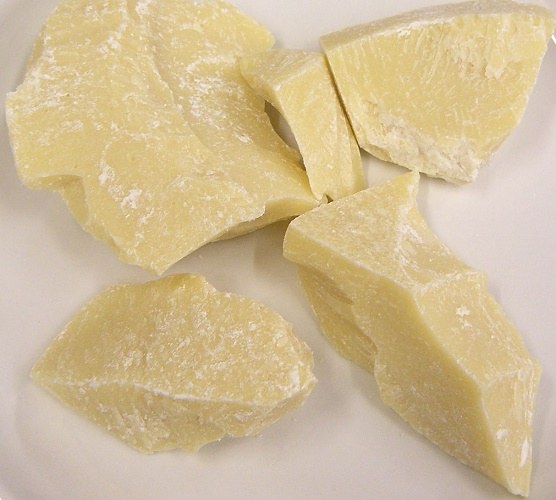 The composition of cocoa butter includes vitamins, minerals, triglycerides and fatty acids: oleic, stearic, palmitic, lauric, linoleic, arachine, which nourish, moisturize the skin, make it smooth and elastic, which in turn prevents stretch marks and makes striae invisible.
How to use cocoa butter from stretch marks
The first way is to use cocoa butter in its pure form. From the bar break off a small piece, hold it a little in your hands, so that the consistency becomes soft. Apply on the area of ??the chest, thighs, buttocks, abdomen. It is in these places that striae form at the time of a sharp change in weight.
In the second method of use, melt 30 g cocoa butter on a water bath, add to the hot mixture 10 g castor oil and 5 g jojoba oil. Pour the mixture into a bottle of dark glass. Use daily in the morning and evening after showering.
Use cocoa butter from stretch marks can be used in the procedure of wraps. Apply hot cocoa butter on the skin in a thick layer, wrap the smeared places with food film. After 30 minutes, rinse with warm water or wipe the skin with a towel. To prevent stretch marks, 10 wraps are enough. In order to make the existing striae invisible, make 10-15 wraps with a break of one week.
During the bath, you can also use cocoa butter. Melt a small amount of unrefined oil in a water bath, add three tablespoons of liquid honey and 200 g of natural cream. While filling the bath, enter the mixture in the water, the temperature of which should be at least 45 degrees. One treatment per week will help moisten the skin, make it more elastic, supple, soft. Consider that in cocoa butter contains methylxanthine, caffeine, tannins – substances that have a stimulating property. Therefore, taking a bath is best in the morning to prevent the development of insomnia.
When to use cocoa butter from stretch marks
Ideal if you use cocoa butter to prevent stretch marks. In the period of intensive growth, during pregnancy, adherence to rigid diets for weight loss, with a sharp increase in weight, striae can appear almost instantaneously. If the skin is sufficiently moisturized, saturated with fatty acids, elastic, stretch marks will not become your problem.
If there are already striae, it is important to make them unobtrusive. In this case, cocoa butter is suitable for intensive use. Deep nutrition and hydration of the dermis with the help of cocoa butter will help the rapid regeneration of cells, will enhance the production of collagen and elastin. Stretches from red will turn white, then – invisible. Unfortunately, you can not completely remove striae using oil alone.