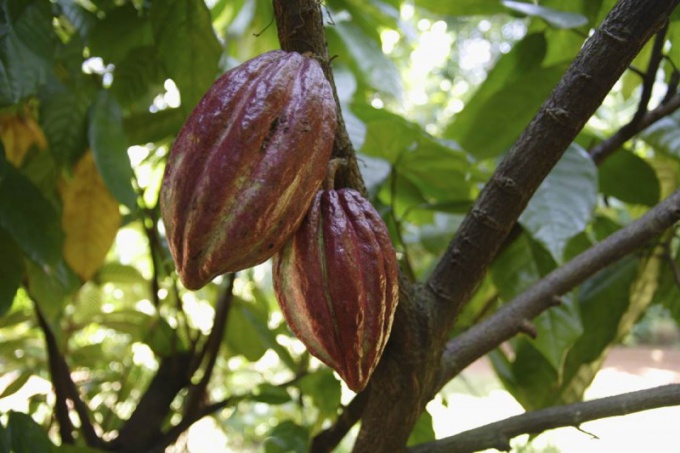 When combating the "orange peel" can be used as a purchase of anti-cellulite products, and time-tested products of home production. For example, a remarkable result is observed when using cocoa butter. The uniqueness of cocoa butter as an anti-cellulite remedy is explained by the fact that it acts simultaneously in several directions. First, it softens and moisturizes the skin, making it firm and smooth. Secondly, the caffeine present in the oil, penetrating the skin, accelerates the process of fat burning and increases muscle tone, so that the "orange crust" becomes less noticeable. In addition, caffeine removes excess fluid from the body, so procedures using cocoa butter are indicated with a tendency to edema.
Cocoa butter can be used in a pure form (wrapping) and as a constituent of an anti-cellulite agent.
Wraps with cocoa butter
Take 2-3 tbsp. cocoa butter and melt it in a water bath (the recommended temperature in 40оС is 43оС). After the oil cool to 36оС – 37оС, if desired, enrich with one tablespoon of honey and apply anti-cellulite composition to the prepared skin. To enhance the effect, the body is wrapped with food polyethylene film and wrapped in a blanket. After 25-27 minutes, take a warm shower. After the first procedure, the skin will become moist and elastic. Carry out such anti-cellulite wraps are recommended twice a week 1,5-2 month in a row.
Cream based on cocoa butter
Well proven anti-cellulite product, prepared from the following components:
– cocoa butter (2 tbsp);
– olive oil (2 tbsp);
– coconut oil (2 tbsp);
– Aromatic orange oil (8-10 drops).
The cocoa butter melted on a water bath is mixed with olive and coconut oil. The mixture is thoroughly mixed and slightly cooled, and then enriched with essential oil. The cosmetic preparation prepared according to this recipe is used as a massage oil. Apply it to the clean and well-steamed skin of problem areas with a thin layer and during 3-5 minutes intensively massage the body. After this procedure, do not take a shower: the remains of the oil mixture should be completely absorbed. The recommended frequency of performing anti-cellulite procedures is twice a week.
Also in the fight against the "orange crust" can be used a cream made from such ingredients:
– 30 g cocoa butter;
– 1 st.l. olive oil;
– 30 g beeswax;
– 30 ml coconut oil;
– 30 g shea butter;
– 5 drops of aromatic oil of lemon wormwood;
– 5 drops of rosemary essential oil;
– 5 drops of orange aroma oil;
– 5 drops of ginger essential oil.
Grated beeswax is placed on a water bath and melted. Then, shea butter, coconut oil and cocoa butter are added to it, continue to cook in a water bath until a uniform consistency is obtained. Then the container with the mixture is removed from the plate and the composition is enriched with olive oil. After another 10-13 minutes, the mixture is added with aromatic oil and thoroughly beaten with whisk. Apply the finished product to the problem area, intensively rubbing for 5-10 minutes. Such anti-cellulite procedures should be performed twice a day (in the morning and before bedtime): in a month the "orange crust" will become barely noticeable. Prepared on this prescription cream should be stored in a glass tightly closed container in the refrigerator for no more than 3 months.