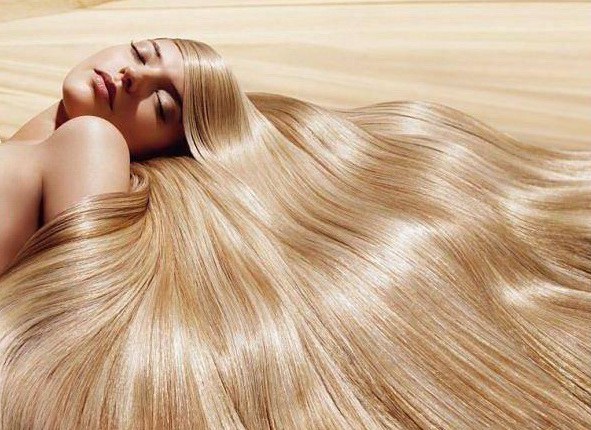 Chamomile since ancient times is used as a natural dye. Light hair she gives a soft golden glow. Rinsing chamomile is absolutely safe.
Recipes for lightening hair
The simplest recipe with a minimum of funds: take 2 st.l. Dry chamomile and boil in one liter of water for 5 minutes. Then drain the broth and cool. If you want the color to be more intense, take more dry chamomile, and water about 300 ml. Boil longer: 15 minutes. Moisten the broth over the entire length of the hair, so that the color and shine is more saturated. For convenience, pour the daisy into the gauze bag, pour boiling water. In this case, you do not have to filter the broth.
Decoction based on chamomile flowers and nettle roots not only brightens, but also strengthens hair well. Take dry raw materials in 1 tablespoon, fill with a liter of water, boil 10 minutes on low heat, then cool and strain. Instead of rhizomes of nettle, you can use sage leaves.
For chamomile lightening with honey and lemon, take 25 grams of chamomile, pour a glass of boiling water and insist half an hour. Then add 3 tablespoons of honey and juice of half a lemon. Shake the broth thoroughly so that all ingredients are mixed.
Another recipe with lemon juice: 6 tablespoons chamomile pour a glass of water and simmer on a water bath for 20 minutes. Then drain the broth and cool, add the juice of one lemon and 2 tablespoons of oil: olive, castor or burdock.
For clarification of hair, a mask with turmeric and lemon will do. Prepare 3 st.l. chamomile flowers, cut lemon peel, put a teaspoon of turmeric and pour the mixture with boiling water (1 liter). Insist a decoction of 2 an hour, then strain and store it in the refrigerator.
Lightening procedure
In order to have a lasting result, broths with chamomile should be used regularly. The mixture obtained as a result of any of the recipes, apply according to this scheme: moisten hair from roots to tips, wrap polyethylene on the head and leave under a towel for an hour and a half. After rinse hair with warm water and dry naturally.
In many recipes, clarification depends not only on chamomile, but also on honey and lemon. If you use such decoctions regularly, they, of course, will make your hair healthy and beautiful. Do not expect a radical change in hair color: chamomile gives shine and shine, refreshes the color, adds a golden hue. In addition, the broth of chamomile removes irritation, strengthens hair, helps to get rid of dandruff.