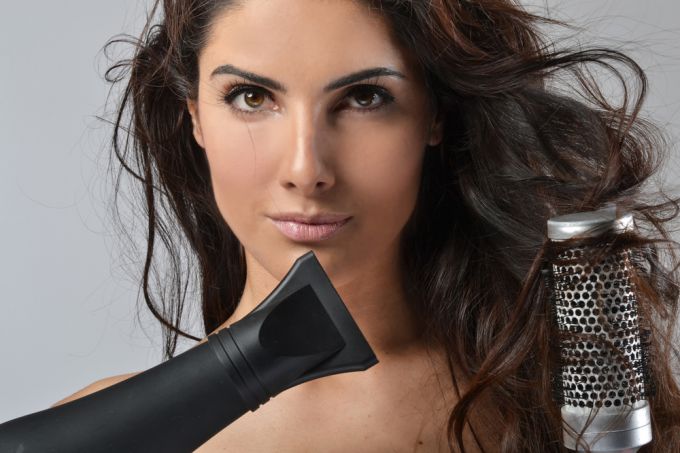 Permanent drying and hair styling with a hair dryer is a daily activity for any modern woman. But from the effect of hot air, hair lose moisture and natural shine. Therefore it is especially important to choose a high-quality hair dryer with different nozzles and several modes of operation. Before making a choice in favor of a particular model of hair dryer, you should determine their main varieties.
In the modern market there are: diffusers, hose-type hoods and so-called stylers. As for concentrators, they have a universal slit-like nozzle in the form of a cylinder and are intended not only for drying, but also for laying. When using such a hair dryer, you can direct the flow of air to a specific area of ??hair.
Diffusers are equipped with a very convenient nozzle with soft "fingers" for diffusing air. Such hair dryers are intended for gentle drying. In addition, the "fingers" massage the skin and help create additional volume at the roots.
Fen-styler is a real multi-functional assistant with various nozzles for maximum convenient laying. Also all such devices are divided into household and professional.
When choosing a hairdryer, you should focus on an important indicator, such as power. This parameter directly determines the air flow rate, which affects the hair. If you have short or thin and brittle hair, you should not choose a powerful model. Optimum option will be a hair dryer with a power of no more than 1200 W. But the owner of long and thick hair can recommend a more powerful device with the value of this parameter up to 1600 Tues. Such a hair dryer will dry your hair fast enough. This is especially true when you need to hurry to work in the morning.
Do not put the hairdryer too close to the hair in the process of drying. The ideal distance should not exceed 40-50, see.
By the way, you can also adjust the power by selecting the operating modes of the hair dryer. When choosing, pay attention to the fact that the temperature level and the speed of air supply are regulated in the dryer. Not all models can choose the operating mode. Usually inexpensive hair dryers have a common regulator of the above parameters. This is not very convenient, because changing one parameter will change the other. It is desirable that there are several temperature levels.
You should also know that there is a special filter in the back of any hair dryer. It protects internal elements from the penetration of dust and needs periodic cleaning. It is best to choose models with detachable filters so that they can be easily freed from contamination.
In expensive hair dryers, an additional function of air ionization is provided. Ionizer allows you to protect hair from overdrying, since static electricity is neutralized.
Be sure to ask the seller-consultant whether the device can supply cold air. This is very important, since blowing hair with cool air after styling will help to retain its appearance for a long time. Do not forget to determine the distance from the outlet to the mirror. The length of the cord should match this distance.
As for the manufacturer, the preferred brands are the hair dryers of such brands as Bosch, Braun, Philips and Rowenta.