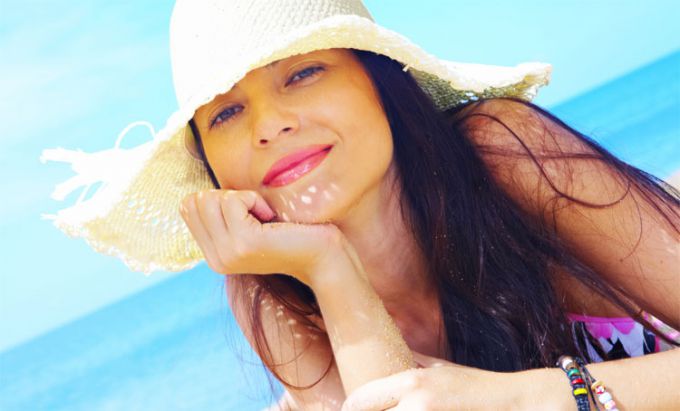 Summer hair is very stressed. They protect the scalp, while they themselves fall under the distribution, after which they become brittle and dry. To avoid this, you should identify the reasons that can damage the hair.
Causes of hair loss in summer
1. Absence of a headdress.
The sun very strongly sears the hair, as well as the scalp. This leads to the death of hair follicles and hair loss.
2. Means for styling.
In summer, a large number of all kinds of foams and varnishes for the hair have an additional load. Under such a "hat" the scalp begins to puff, which contributes to the growth of harmful bacteria. Especially for the summer period it is necessary to exclude alcohol-containing hair products. This leads to dehydration of the hair.
3. Chlorinated water in the pool and salt water in the sea. 
After the pool or the sea, the hair should be rinsed with fresh water. If this is not done, the hair will eventually become dry and brittle.
4. Lack of vitamins and stress. 
Как вернуть красоту и здоровье волосам и коже головы?
Первое правило для того, чтобы уберечь волосы от палящего солнца летом – это приобретение симпатичной шляпки или легкого платка, которым следует покрывать голову. Их достаточно надевать в очень жаркую погоду.
The second rule is useful for all seasons: after washing, the hair should be rinsed with cool water. This will improve blood flow to the hair and prevent loss.
Once a week, you need to make masks based on olive or burdock oil with the addition of egg yolk. This procedure will nourish the hair and make them healthy and beautiful.
In summer, it is best to replace the usual shampoo with one that has moisturizing properties, and also put off the hair dryer for the ceremonial events, allowing the hair to dry naturally. It is also best not to tug hair with tight knots during intense heat and low humidity.
По мнению экспертов, именно летом происходит самый активный рост волос. Поэтому не стоит боятся часто подстригать кончики. На деле это только улучшит их состояние.
Важно помнить, что причина выпадения волос может крыться не в палящем солнце, а в каких-то изменениях в организме. В этом случае стоит обратиться к врачу!