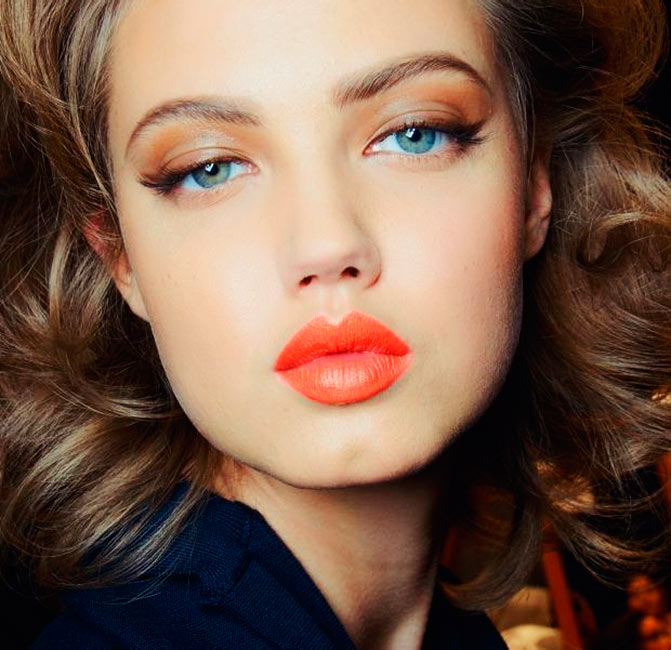 Carrot pomade again at the height of fashion. A new triumph after not such a distant 2012 is the second chance for those who missed it two years ago. It is necessary to look through the reports of fashion shows and understand the simple truth: to be in a trend, you need to have orange lips.
And do not say that you do not go, do not even think! Orange lipstick exists in more than a hundred as matte and pearly shades, as dense lipsticks, and transparent glosses, cold, warm, with different color accents, but with an unchanging solar heart. And what poetic titles: mandarin tango, red ruby, delicate poppy, bright coral, flirty citrus, elektric.
Orange, carrot, brick always refreshes the face. It's worth finding your shade, and the skin of your face will shine.
However, the bold and cardinal color of the lips will also inevitably draw attention to the shortcomings of the face, emphasize the imperfections of the makeup. Choosing this lipstick, it is important to be able to harmoniously combine the shades of shades and blush, avoid the conflict of cold and warm tones.
As for clothes, white clothes will be an impeccable background for bright make-up: a strict trouser suit of dense fabric, a flying light skirt, a small lace dress – all the options are unbeatable. Transparent shines of a trendy shade of carrots will make a wonderful party with peach, yellow, orange outfits. Although with all the shades of fit are the outfits of all shades of citrus.
With a beige dress coral lips will look unusually sexy, and with blue defiantly stylish.
Spring-summer season is the time to start experiments with carrot lipsticks, especially since all respected cosmetic brands have already presented their collections of new lipsticks. You can not miss the opportunity to try both luxury and democratic shades of coral.
With lipstick carrots color you will be in the center of events and in the limelight! And is not it necessary girl in the season of spring-summer 2014?