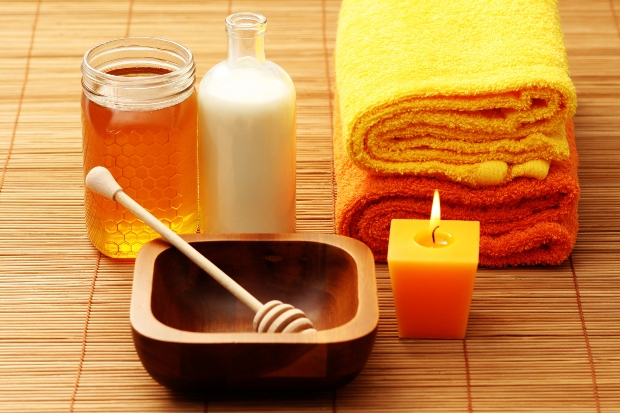 Женщины во все времена старались поддерживать и совершенствовать красоту своего тела. Особенно полезные для кожи различные обертывания.
Очень эффективным обертыванием для тела является обертывание с медом, молоком и солью. Мед обладает богатыми питательными свойствами, молоко глубоко увлажняет и восстанавливает эластичность кожи, а соль оказывает антибактериальное действие и делает кожу более упругой.
Приготовление смеси для обертывания
Чтобы приготовить такое обертывание, понадобится смешать 3 части меда, 2 части молока и 1 часть соли. Если мед густой, то его нужно растопить на водяной бане. Соль можно взять морскую, но и обычная пищевая будет не хуже. Конкретное количество зависит от того, на все ли тело планируется проводить процедуру (тогда нужен помощник) или только на отдельные участки тела.
After applying the resulting mass to the skin, it is best to wrap the food film. In the hot season this will be enough. In the rest of the time, the effect will be even better if you lie down and cover yourself with a blanket.
After 30 minutes, the mixture should be washed off with warm, but not hot water. Then apply a moisturizing cream for the body or milk.
Как often do wrapping
The skin after this procedure becomes soft, gentle and well moisturized. If you do wraps with honey, milk and salt regularly, at least once a week, the result will not take long.