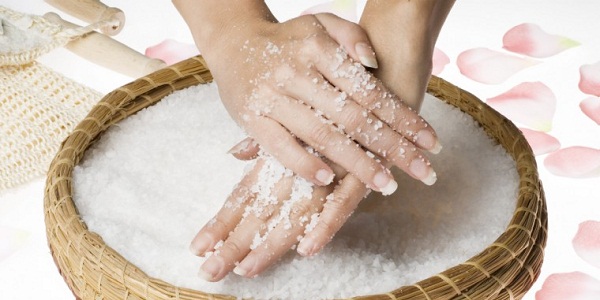 The benefits of salt as a cosmetic product have been known for a long time. It is added to baths, masks, wraps. You can use salt and as a base for preparing home scrubs. And the salt can be taken as a sea, and ordinary, not very large, food. Before the procedure, the skin is best to steam out – in the shower, in the bath or in the sauna. Then the pores will open, and the dead cells will soften, and the skin cleansing procedure will be more effective.
Salt and oil
The simplest recipe for scrub is to mix salt and oil. Oil can be any: sunflower, olive or massage. Mix in the proportions of 0,5 a glass of salt and 1 / 3 a glass of oil. It is necessary to massage lightly with massage movements a scrub on a skin. The procedure should take about 5-10 minutes, then wash the mixture with water and soap.
Соль и апельсин
One orange must be ground in a blender to a homogeneous consistency and mixed with 0,5 a glass of salt. Exfoliate for several minutes and rinse with water. Salt will make the skin supple and elastic, and vitamin C will give the skin a healthy appearance. If an orange is replaced with a lemon, then a clarifying effect will be added.
It is necessary to perform peeling procedures with salt, because grains of salt are sharp enough and can scratch the skin.
After using salt-based body scrubs, a light moisturizing cream or body lotion should be applied to the skin. The salt has some drying effect. Therefore, scrubs with salt are not recommended for dry skin.