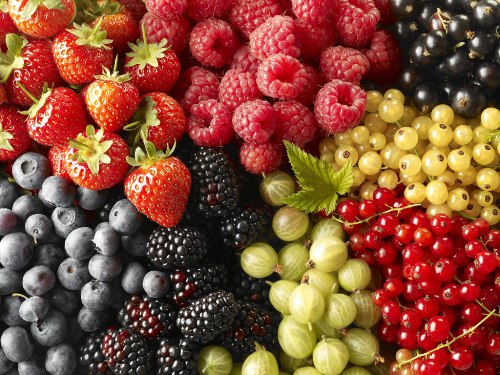 Glitter, silkiness and elasticity are able to give hair not only finished cosmetic products, but also fresh berries. They are rich in antioxidants, minerals and vitamins, which have a beneficial effect on the appearance of hair.
Strawberries and strawberries help to moisten hair and give them a healthy shine. Masks from these berries are considered universal. To prepare them, mash 15-17 large berries of strawberries or a glass of strawberries, add 3 st.l. kefir or on 5-7 drops of mint oil and rosemary oil. Vitamin gruel rub into the roots of the hair, and distribute the rest along the entire length. Hold the mask for 20 minutes and rinse the fragrant mixture with warm water.
Grapes will help restore hair vitality and strength after staining. From the berries of one bunch squeeze the juice. Mix it with 2 tbsp. honey and 1 st.l. of linseed oil. Apply the mask to damp hair, cover with food wrap and a towel. The procedure can be performed several times a week. The hair after the grape mask becomes incredibly shiny, elastic and obedient.
Cherry is recommended for the care of oily hair. It is able to regulate the work of the sebaceous glands. For cooking, take a glass of freshly squeezed cherry juice and mix it with 1 / 2 glass of vodka and 5-10 drops of lemon juice. Close the lid and leave in a warm place for 10-14 days. The resulting product must be applied before washing the head. Hold for half an hour and rinse with shampoo. At the end of the procedure, rinse your hair with slightly acidified water.
Against hair loss, masks from sea-buckthorn or cowberry grow beautifully. Mix 1 / 4 a glass of berry juice with finely chopped carrot and 2 st.l. castor oil. Massaging movements, apply the product on the hair, cover with polyethylene and a warm kerchief. After 2 hours, wash off the mask with warm water.