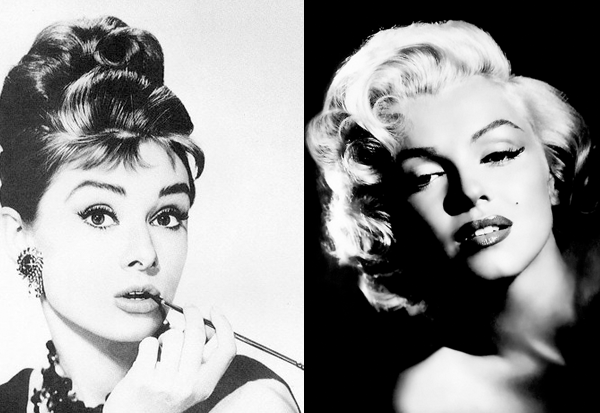 Fashion is fleeting, as is time. And each time there were their own standards of beauty the same way as each people have their standards. It was worthwhile to light a new star in the sky of show business, as women began to copy her image. A vivid example in the 50-ies was Merlin Monroe. Her feminine figure with magnificent shapes and thin waist has become an example of beauty for the whole world and remains in fashion these days. And after it was lit one more star – Audrey Hepber. The bright appearance and fragile figure fascinated not only the male half of humanity, but also many women who aspired to become like her. In England, however, the new standard 80-55-80, the standard of painful leanness, has established itself. Supermodel Twiggy has become a role model for millions.
80-ies received a new fashion trendsetter, which gained popularity due to its sexuality and shocking. Madonna (Louise Ciccone) became a sex bomb of that time. And, like Merlin Monroe, remains popular in our day.
90-е годы вернули моду на худобу. Кейт Мосс вызвала волну критики в свой адрес. Однако 21 век подарил нам новый секс-символ Анджелину Джоли. Ее яркую внешность знает, наверное, каждый современный человек. Хотелось бы заметить, что мода меняется не только с течением времени, но и у каждого народа есть своя культура и свои эталоны.
So, for example, in Ancient Japan, the main criterion of beauty is a small leg the girl. From an early age, parents took care girl не была "уродиной". Обматывали ее ногу и надевали специальную обувь, чтоб нога не has grown в длину. К сожалению, это очень болезненно, т.к. девочка с трудом передвигалась и не могла крепко стоять on foot.
In the Indian tribes, the long neck is considered beautiful among women. From an early age, girls wore special rings around their necks. And by the time she needed to get married, her neck was a length of 20-35 centimeters. And if she was convicted of treason, the rings were removed, and she died because her neck broke, unable to bear the weight of her head.
Где-то признанной красавицей считается женщина with tattoos on the face or with scraping.
So, dear women, do not be afraid to be yourself. Time is fleeting, and the pursuit of fashion does not always mean the preservation of health. how many girls died of anorexia, and, by the way, in the Renaissance beautiful lady was considered beautiful. The taste and color, as is known, there are no comrades. Only in your body, which you care for and which you love, you can truly love other people.