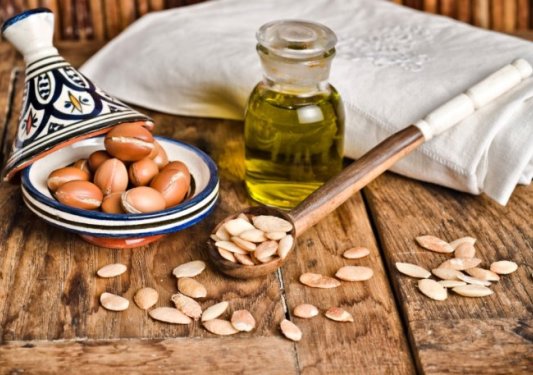 Argan oil is one of the most famous cosmetics supplied to our country from Morocco. It is considered the best and fairly rare vegetable oil. It contains useful substances, thanks to which the skin becomes more beautiful, healthy and elastic. In addition, with regular use, the aging process slows down, wrinkles are smoothed.
The special value of argan oil is that it is rich in unsaturated fatty acids. That is why the main actions of this remedy are nourishment and hydration of the skin. Argan oil has rejuvenating, toning and regenerating properties. Thus, with the regular use of argan oil, you will get rid of the tightness and flaking of the skin, improve the complexion.
Another advantage of this overseas remedy is that it can be used to care for the skin around the eyes. It does not clog pores and has a light texture.
The properties of argan oil are wide enough. It is used to combat acne, because it has strong regenerating and anti-inflammatory properties. With its help you can treat minor damage to the face, preventing the appearance of scars and scars.
To start using argan oil should be gradually, so that the skin has time to get used to it. In this case, the first time it should be applied at night, this will reveal the presence of an allergic reaction. Use argan oil preferably once a day, adding a few drops to the tonic, daily cream or various masks. However, if you have very dry skin, you can carry out the procedure twice a day.
There is an opinion that argan oil leaves a greasy shine. In fact, this is not so. Having a light texture, it easily penetrates into the skin cells.