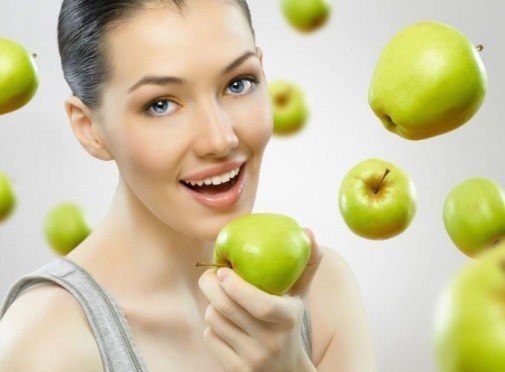 Apples have long been widely used in home cosmetology. Masks, cooked on their basis, are ideal for caring for withering and tired skin. They effectively cleanse it, give smoothness and elasticity, help to remove inflammation and irritation, and also reduce puffiness.
Apple masks attract women with their accessibility, because this wonderful fruit can be found on the shelves of stores at any time of the year. Apples are rich in fruit acids, various vitamins and microelements, pectin and lecithin. That is why this fruit can be called a fount of health. Useful substances contained in it, are easily absorbed by the skin. Apple face masks are recommended to be repeated twice a week – this will be quite enough to keep the skin in perfect condition. The general course is approximately 15-20 procedures, after which you need to make a break for 1,5-2 months. Masks from apples should be applied to clean skin and keep for about 15-20 minutes, then rinse with warm water.
Recipes of apple masks
To prepare a mask suitable for the fading skin, grind the oat flakes in a coffee grinder. The resulting flour is mixed with an apple, grated on a fine grater, and natural liquid honey. If the mass is thick, dilute it with a small amount of warm milk or boiled water. Apply a mask on the face with a copious layer.
A good moisturizing effect has a mask of low-fat cottage cheese and apple, crushed in a blender. The mixture is applied to the skin and after 15 minutes, remove the decoction of chamomile. For all skin types a simple mask of apple puree is suitable. It will perfectly moisturize the skin, give it softness and fresh rested look.
Good tonic properties have a mask made of a mashed apple and boiling milk cream. Thorough gruel chill to room temperature and apply on face. There is another great mask recipe with a lifting effect. Stir the grated apple with pre-whipped egg whites and starch. For dry skin, you can enrich the composition with a small amount of olive oil.