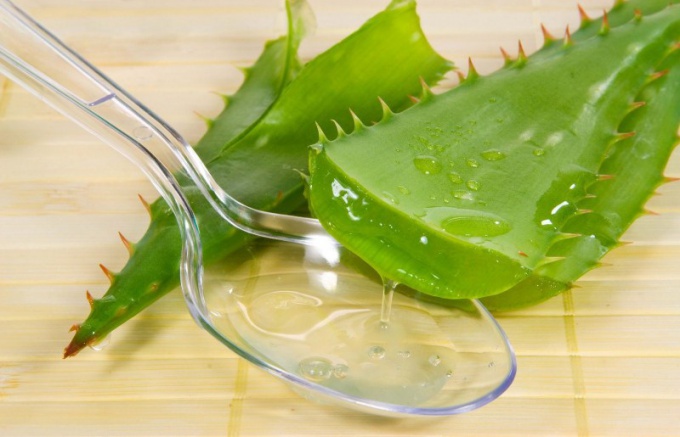 Acne is a problem that causes a lot of trouble. In the fight against them, various means, including people's means, can be used. For example, with acne will effectively cope with aloe. The chemical composition of aloe is rich. Here there are over two hundred components: vitamins A, C, B and E, lignins, organic acids, natalone, beta-carotene, emodin and other active ingredients. Due to this unique composition, aloe is used as a cleansing, antibacterial and anti-inflammatory agent.
Aloe juice, getting on the skin, forms on its surface a protective film, which prevents the entry of pathogens into the epidermis. However, this agent accelerates the regeneration of the skin, and also gives it a beautiful color.
How to properly prepare and use aloe in the treatment of acne
Before beginning treatment of the problem skin, aloe should be properly prepared. To do this, cut the lower leaves of the plant, wrap them in tissue or paper and put on 2 weeks in the refrigerator (this procedure increases the activity of valuable components present in aloe).
Squeezed from the prepared leaves of aloe juice rub face twice a day (in the morning and before bedtime), focusing on problem areas. At the same time to increase the effect of wiping and lotions are recommended to combine with the intake of juice inside. It should be taken three times a day before meals on 1 tsp. Treatment lasts a month, but if necessary, it can be repeated after a two-week break.
Aloe in the composition of medical masks from acne
Perfectly removes inflammation therapeutic mixture made of such components:
– chicken protein;
– 1 tsp lemon juice;
– 2,5-3 st.l. juice of aloe.
The beaten protein is mixed with lemon juice and aloe juice. The prepared composition is covered with the skin and this remedy is left until it dries completely. Then they wash themselves with cool boiled water. This curative effectively fights with a greasy shine, dries the skin, and also narrows the dilated pores.
In addition, a mask prepared from such components can be used against acne:
– 55-60 ml of water;
– 2 st.l. tinctures of calendula;
– 3 st.l. juice of aloe.
The ingredients are mixed, then the face is wiped with a ready-made compound (it can only be used for a fatty skin type) twice a day. After half an hour after this procedure, the face is rinsed with cool boiled water.
Also, when treating acne, it is recommended to use a medicinal composition, the recipe of which is as follows:
– 2 st.l. aloe juice;
– 4 drops of carnation essential oil, rosemary or tea tree.
This vitamin mixture should be daily wiped problem skin. The duration of treatment is determined individually.