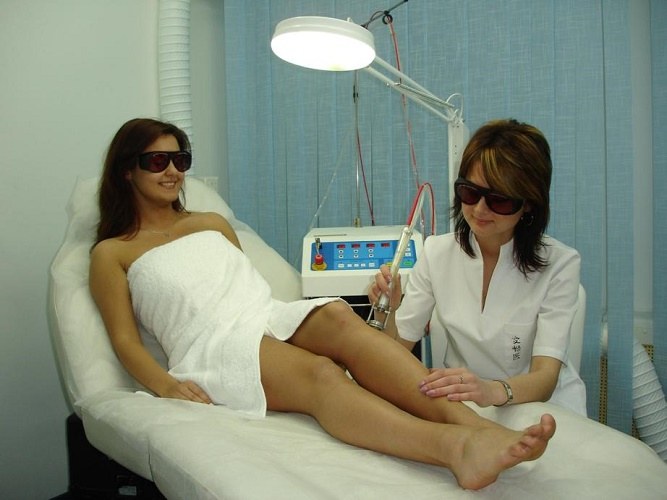 Quantum hair removal is a relatively new procedure in which unwanted hairs are removed using a special device with light waves. As a result, the vegetation, which is in the stage of active growth, no longer grows.
How to do quantum hair removal
In the cosmetologist's office, the patient is housed in a comfortable armchair. He is offered sunglasses to protect his eyes from extremely bright light. The epilation site is lubricated with a cooling gel.
A special device with light waves is the procedure of epilation. Feels only a slight tingling or tingling. Unlike photoepilation – a procedure long known to Russian women, quantum hair removal is carried out using advanced unique equipment developed in Britain. The computer with the sensor itself determines the type of hair and skin condition, regulating the light effect power automatically. As a result, the likelihood of burns is reduced to a minimum.
The session allows you to get rid of not only dark, but also light hair. To completely get rid of unwanted vegetation on the body, several procedures will be required, since during one session only those hairs that are in the stage of intensive growth are removed.
Minuses of quantum hair removal
The high cost of the procedure is only the first, but by no means the only minus. Before the quantum hair removal you can not sunbathe for 14 days, for a month you will completely abandon any kinds of depilation. Two days before the procedure, all vegetation is recommended to be shaved. Within 48 hours before going to the beauty cabinet, you will have to give up the perfume, creams, and not take any medications.
After the quantum epilation also have to adhere to special recommendations: to abandon the bath, sauna, bath, do not wear tight jeans and tight clothes, do not use products that hurt the skin.
The benefits of quantum hair removal
The main advantage is the painlessness of the procedure, the absence of burns, the ability to remove blond hair, quickness. Certainly, that positive moments can be expected only when using the services of a highly professional master and new high-quality equipment.
Contraindications to the conduct of quantum hair removal
Quantum epilation can not be performed with skin damage, acute and chronic skin diseases, hypertension, diabetes, oncology, keloid scars, herpes, coronary heart disease, varicose veins, during pregnancy and lactation. Before the procedure, get a recommendation from a doctor and a cosmetologist who will do the epilation. Choose a proven beauty salon, of which you have heard only good reviews customers.