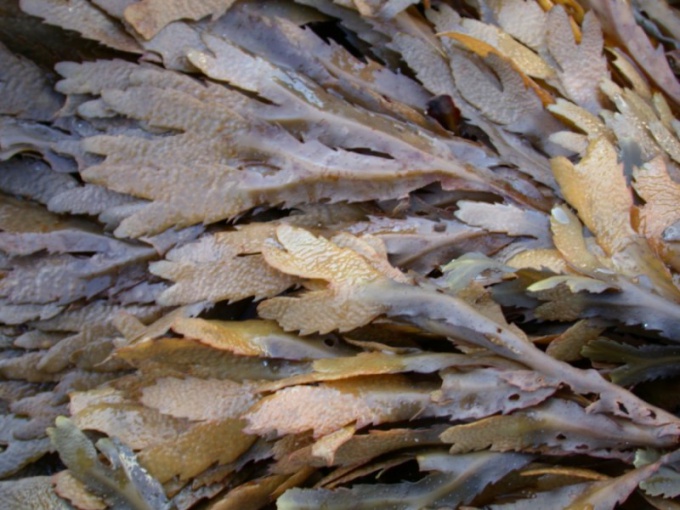 Laminaria – a brown seaweed, which includes a large number of minerals and vitamins. In cosmetology, laminaria is often used for anti-cellulite wraps.
General information about laminaria wrapping
There are many positive reviews about laminaria wrapping. With the help of this algae you can remove toxins and slags from the body, reduce cellulite formations, make the skin smoother and more delicate.
Before applying to the skin composition, take a shower and treat the problem areas with scrub.
For wrapping, leaf algae and powder are used. Laminaria is wrapped in water before wrapping, so that it becomes soft, moist and can display its healing properties.
To make a hot wrap, the kelp is immersed in water with a temperature of 36-38 ° C for 25-30 minutes, then superimposed on the body and wrapped with a film. Hot wrapping promotes vasodilation and improves the functioning of the circulatory system. During this procedure, pores are opened, useful substances start to actively penetrate the skin, and toxins and toxins are released to the surface. This type of wrap is effective in the treatment of cellulite, it is suitable for getting rid of excess weight, as well as to improve the skin turgor.
For a cold wrap, the kelp is soaked in 20-25оС water for 20-30 minutes. This wrapping narrows the blood vessels and contributes to the outflow of toxins and toxins to the internal cleansing organs. This procedure is used to reduce puffiness, to get rid of cellulite and increase the elasticity and tone of the skin.
Preparation of wrapping mixtures
Grinded laminaria can be applied to the body together with cosmetic clay. Dilute the amount of black clay you need with warm water to make a mass of liquid consistency, like sour cream. Add seaweed to it and leave it for 30 minutes. Then apply the mixture to the problem areas, wrap the food wrap on top and lie under a warm blanket. After an hour, wash the contents. The wrapping should be done through the day by the course of 8-10 procedures.
Never apply a wrapping compound to damaged skin. This procedure is also prohibited for certain diseases of the internal organs, so consult your doctor before using it.
Good effect on the condition of the skin wrap with kelp and shallow sea salt. Swell the powdered algae with a small amount of sea salt, in which you can drip 2-3 drops of lemon essential oil, and stir well. Apply the product on clean skin, wrap with film and insulate. Wash off after an hour. Wrap the day through the course of 10 procedures.