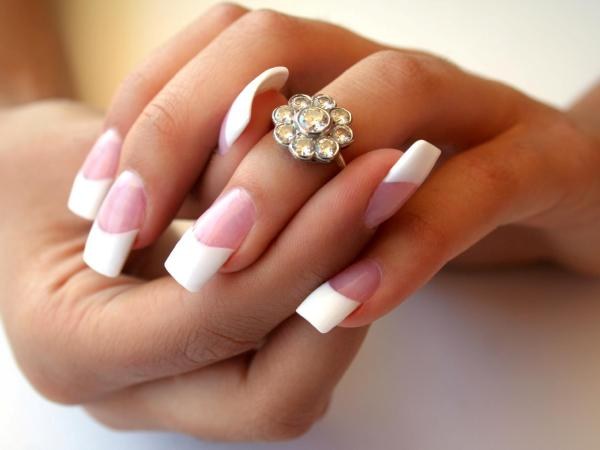 Acrylic nail extensions are a quick way to find beautiful and well-groomed nails. The procedure takes about two hours, and after it you can forget about manicure for at least a week. But, no matter how beautiful the manicure masters' promises sounded, acrylic nails, in addition to the pluses, have their drawbacks. The procedure for nail extensions with acrylic consists of three stages. First, the master prepares the nails: gives the desired form, grinds the abrasive bar, degreases with special means.
Next, the material is applied for building. Acrylic is a dry powder. It is mixed with a liquid liquid to obtain a rapidly solidifying mass. This mixture is applied to the nail plate and simulates the shape. After complete drying, the master cuts off excess acrylic, aligns the nail relief, makes smooth color transitions. Then the nails are polished.
At the last stage, the manicure is given a finished appearance: varnish, draw patterns, polish.
Advantages of acrylic build-up
The main advantage of nail extension is the ability to forget about manicure for a few days. It is very convenient if you go on vacation or you do not have time to do a manicure yourself.
Acrylic nails look natural. They are thin, but very strong, resistant to shock, bending and temperature changes. There is an opinion that acrylic does not allow nails to breathe. In fact, this is not so. The growth zone of the nail is under the dermal roller at the base, it is this place that "breathes". Therefore, it does not matter what the nail plate is covered with: acrylic, glue or usual varnish.
The process of acrylic nail extensions does not hurt nails so much, in comparison with the same gel. A good master gently molds the desired shape, which will relieve the nail plate from intense sawing. Acrylic does not require ultraviolet to solidify, which reduces the time of the procedure.
Extension can be done on nails of any length and shape. A huge variety of shades of acrylic powder makes it possible to do different types of manicure, starting with a classic jacket, ending with a bright gradient. In addition, from this material, you can fashion a small flower or other decoration that will become part of the design.
It is quite easy to remove acrylic nails. To do this, you need to soak them in a special compound. However, it is better to do this from the same master, so as not to damage natural nails.
Disadvantages of acrylic build-up
Acrylic smells unpleasant, so during the whole session you will have to put up with it. If the accrued nail breaks, your own fingernail will likely suffer. At best, it will just crack. In the worst – it can break off.
When removing acrylic nails, use products containing acetone. They degrade the natural shine of the nails. Finally, acrylic build-up has its contra-indications. It can not be done to people suffering from fungal nail lesions. Patients with bronchial asthma or frequent allergic reactions should take special care and be sure to warn the master about it.