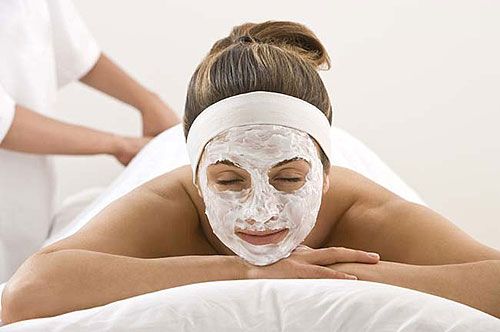 Again a working day in suspense? Or in a family of complexity? Take advantage of popular beauty therapy! What's this? Have you ever noticed that for every woman, caring for yourself is not only care and external beauty. This is what gives a woman vivacity, confidence, strength. I offer beauty treatments that will not let you take stress, relax after a difficult week, and, among other things, add your skin to beauty and youth. 1. Full body massage. If you often husband massages your back, you completely can not understand the procedure of massage. I advise everyone to try a full massage with a special emphasis on the neck, arms, legs and back. Who has never been to massage, I advise you to start with a Swedish massage. Such a massage is more delicate. Full body massage in any case, the right procedure, which relaxes the whole body, stops all kinds of excitement and emotional breakdowns. It is very good for the skin. After such a full-fledged massage, my skin looks like a whole week like I returned from the sea the other day: no wrinkles, no spots, no goose-skin, and to reduce cellulite and prevent massage – one of the main procedures.
2. Body wraps. There are many varieties of this procedure that are based on seaweed, sea salts, mud, clay, chocolate, oils … Naturally, different wrap ingredients have a different effect. But you should try it! The master over the selected areas of the body will cover you with a film, then wrap it carefully in a warm cloth. It is usually necessary to wait about twenty minutes, then the wrapping will be removed, you can wash yourself. After that, you will feel that the skin has become completely different! And your body has found wonderful lightness! With frequent stress, this procedure is shown and as a relaxing one. In short, very all soviet!
3. Salt professional exfoliation. Usually use a mixture of special oils, salts. You simultaneously get nourishment for the skin and a little massage. Then you have to wash everything off and you will feel that even the elbows, the heels and the knees have acquired softness, and your skin has become surprisingly radiant. It is worth noting that after this procedure, no additional moistening is required. For this, the composition of the exfoliant also includes oils. Naturally, you can do the exfoliation of the house itself, but it's very pleasant after work to come to the beauty salon where you are professionally engaged. Thus, the wrapping and massage procedures can be alternated so that they do not have time to get bored. And the elements of aromatherapy, which are present in the process, will give the whole body a real relaxation.
4. Терапия для кожи головы и волос. Я просто обожаю это! Ничто не расслабляет так быстро, как массаж головы. Прежде чем к волосам применить лечение (обертывания, маски и так далее) опытный специалист обязательно совершит массаж головы. И это удивительно! И расслабляет, и бодрит одновременно. После этого процедуры для волос будут намного эффективнее. Прекрасный вариант релаксирующей процедуры, если вы не хотите раздеваться и экономите драгоценное время.
5. Thai massage. I'm immensely glad that I happened to try it. This is not a simple massage, the procedure involves a combination of yoga, reflexology and massage of the active points of our skin (acupressure). A massage therapist will help you position the body so that you remove the energy blocks and release tension. It perfectly relaxes, and perfectly rejuvenates.
6. Массаж при помощи горячих камней. Специалист берет нагретые камни разного размера и формы и кладет их на спину. Действуют в процедуре три силы: вес камня, его внутренняя сила и высокая температура. От этого получаешь настоящее расслабление. Длиться процедура может от тридцати минут до целых трех часов. Впечатления кардинально другие, нежели при простом массаже. Блаженство!» — вот что сказала о данной процедуре одна girl, with which I crossed on stone therapy. I have the same opinion, it really is! Immediately I forgot about disobedient children, eternal problems with my mother-in-law, a bad boss!
7. Swimming pool or bath. Maybe it's mud and salt baths, and a jacuzzi. There are many species. Just the very ability to move gently, be in the water, feel full weightlessness – already a good relaxation and stress relief. If you suffer from pain in the back and lower back, this is the best option, since in this case, you can do massage only after consulting the doctor.
8. Facial treatments. Each for the skin of the face (relaxing, rejuvenating, nourishing masks, massage, peelings and so on) is an action for beauty. Still it can be considered as a good anti-stress therapy. Nervousness and tension are completely removed. Try to look after work in a familiar salon, choose a simple procedure for skin care on the face. Regardless of what you choose – you will get the necessary relaxation and quick calm along with youth and beauty.