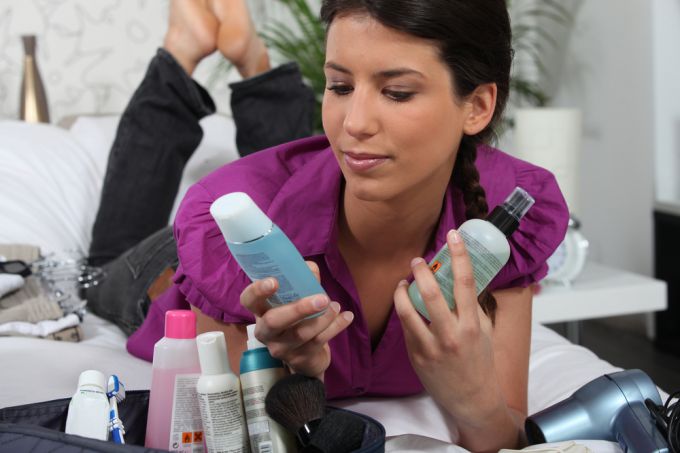 Lipstick, cream, nail polish and other cosmetics are not always used for their intended purpose. Bored, overdue or unsuitable products can be used for a variety of purposes: from urgent repairs of things to washing. Some funds will successfully replace each other, this castling will save you money on buying new cosmetics.
Hair conditioner
Air conditioner or hair conditioner is an excellent substitute for shaving. A small portion is applied to the legs, underarm area or bikini. The razor slides very gently, without cuts and irritations. This method can also be used by men who have run out of shaving foam. Air conditioners not only improve the glide of the blades, but also moisturize the skin.
A hair conditioner, it can be used as an emollient for things made of wool or silk. A small portion of the conditioner is diluted in water for rinsing. After the procedure, things become very soft and acquire a delicate pleasant aroma.
Cream for hands or face
Unsuccessful face cream can be used to care for shoes, bags and gloves made of genuine leather. For this purpose, a nutrient with more oils is best. It is applied to the product with a thin layer and rubbed until completely absorbed. The cream will help soften the tougher shoes, for this, it rubs into the inner surfaces just before putting on shoes or shoes.
Light moisturizing cream is able to replace styling agents for hair. He smooths disobedient locks, gives shine to locks, without making them excessively greasy.
Hygiene Lipstick
The tube of hygienic lipstick is a universal remedy for the whole family. It protects the lips from frost or excessive dryness, will be a good base for persistent lipsticks, tightening the skin. With the help of a hygienic, you can make the color of lipstick softer. Based on a simple "hygienic" remelting agents for the lips, mixing the remnants of lipsticks, warming them in a microwave, and then cooling in the refrigerator.
The hygienic remedy will replace the cuticle preparations. It softens well the rough skin around the nails and heals fine wounds. The agent can be applied to other coarsened areas: flaky skin on the nose, elbows and even heels.
Nail polish
A varnish of a suitable color can quickly paint a scratch on shoes, a bag or furniture. To damage the place is not conspicuous, you need to choose the right color and apply the varnish very neatly, with a thin flat brush. Transparent varnish can stop the arrow on pantyhose or stockings. It is enough to put a point on the flattened loop and let the drop dry.
Lipstick
Normal moisturizing lipstick perfectly replace the cream blush. It is slightly rubbed on the cheekbones and powdered with a translucent powder. A mauve or brown shade can be used as eye shadow. So that they are not collected in the folds of the skin, lipstick should be applied over the base. A thin layer of lipstick red or pink-beige hue disguises bruises under the eyes. Spreading the product with your fingertips, apply a light foundation and a thin layer of powder on top.
Shower gel
If the gel dries the skin, do not use it for the intended purpose. The product will perfectly replace liquid preparations for washing. Gel is convenient to wash delicate things: lingerie, stockings, wool jersey.
The gel can be used to take baths instead of the usual foam. Another role is the replacement of liquid hand soap. It is enough to pour it into a convenient dispenser with a dispenser and put it on the sink.
Eau de Toilette
Unsuitable or unrefined perfume is easily replaced by air freshener. It is sprayed in small portions, achieving the desired intensity of odor. You can perfume a cotton ball and put it in a wardrobe or dresser with linen – things will get a subtle flavor.
Toilet water can be used as a disinfectant. A fragrant liquid is easy to wipe a stubborn stain – for example, a trace from a ballpoint pen.