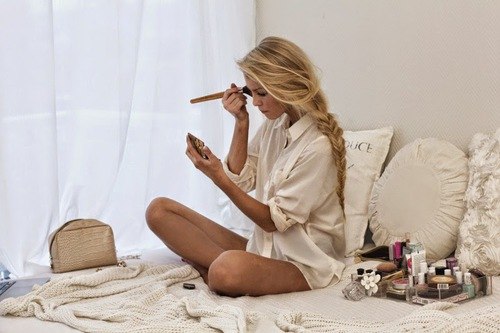 Almost every girl starts her morning with makeup, because thanks to him you can feel really beautiful and happy. But it often happens that the fair sex just do not have time to do the necessary beauty treatments. Haste often leads to a bad mood, improper use of makeup and mistaken application. To prevent such a situation, you need to have your own morning makeup system, under which you can adjust every day.
So, as a rule, waking up in the morning, you feel tired and unwilling to do anything, but in the end it is necessary to pull yourself together and get out of bed. So you will have enough time for a beauty routine.
To tidy yourself up in the morning, you need to perform a few simple actions:
Freshen the face with cold water.После этого насухо вытерите салфеткой или полотенцем. Это поможет вашей кожи стать свежее и подготовиться к нанесению средств для макияжа. Кроме того, холодная вода поможет вам взбодриться и окончательно проснуться.
Apply to the skin balm or oil.Now a lot of facial products are being sold in cosmetic shops, but many girls are accustomed to using only ordinary creams. Use oil mixtures or balsam, this will help make the skin elastic and get rid of excess dirt on it. Cosmetologists say that these products help much better than conventional cosmetic creams and ointments. After all, natural oils do not contain any chemicals, preservatives and colorings.
Выровнять тон лица с помощью пудры и тонального крема.To begin with, it is necessary to apply powder to negative places: rashes, pimples and allergies. Then, applying a dose of foundation to the cheeks, nose, chin and forehead, smear it evenly and carefully. After that, walk a thick brush with powder all over the face oval, fixing the applied tone.
Оформить брови. Eyebrows are the most difficult part of makeup. To create the perfect eyebrow makeup, you need to use a gel, a pencil and a bit of foundation. First walk on the eyebrows gel, aligning their shape. Then apply the pencil so that the eyebrows look natural. After that, walk through the tonal creams to the places where the pencil is clearly visible, to hide the unnaturalness.
Make up your eyes and lips.To make your eyes look brighter, put white shadows in their corners. Then make up your eyelids with your favorite makeup, pencil or piping, bring their lower part. With the help of mascara make makeup of the lower and upper eyelashes, carefully smoothing them so that there are no excess lumps, and then go to the lips. If you want the lipstick to last a long time, you can apply the following system: make up your lips with a tonal cream, then put on your favorite lipstick, best matte, and on top, fix everything with a small layer of powder. This method of lip makeup is also interesting because with the help of the proposed cosmetic products it is possible to create absolutely different colors and shades of lipstick.