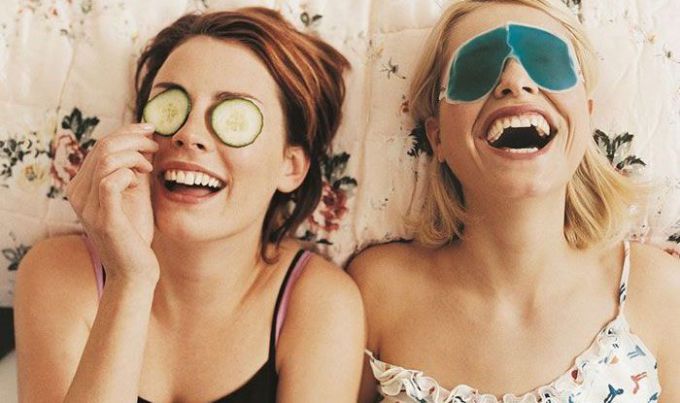 We all know the well-known saying "Beauty requires sacrifice." In our time it would be more correct to say "Beauty requires money". To look good, women are willing to spend a lot of money on cosmetic products. But alas, with the advent of the economic crisis we have to tighten our belts. But what if you want to look good, but do not have money? Use our little beauty secrets.
1. That hair looked good, instead of expensive masks, try to put on the ends of her hair coconut oil. So you can get rid of split ends in a short time.
2. If you burned on the beach, you do not need to buy a remedy for burns. Go to the most ordinary supermarket and buy yogurt. The result will amaze you.
3. Well wipe your face with apple cider vinegar, it will help replace the lotion for oily skin.
4. Instead of a make-up remover, olive oil is suitable, it also perfectly moisturizes the skin of the face.
5. Normal wipes or plain toilet paper will replace matting wipes from greasy shine.
6. Frost the chamomile broth in the ice mold. Then every day, wipe your face with a dice every morning. As a result, the lack of bags under the eyes and a cheerful look!
7. Mix a glass of sugar, a glass of salt and half a cup of olive oil. The resulting mass is transferred to a jar and used as an anti-cellulite scrub.
8. If the peeling for the face has ended, mix cream with salt and gently massage face.
9. As a scrub for the whole body, take brown sugar and your shower gel.
10. Blue clay from the pharmacy can be used as a face mask and body wrap.
11. To strengthen the nails, lower your hands into a normal saline solution. You can use sea salt.
12. From dark circles under the eyes cold teaspoons will help. Attach them to the eyelids for a while.
13. As studies have shown, purely visually there is practically no difference between a road and cheap lipstick. The main thing is to choose the right shade.
14. If you have rough skin of your legs and your heels are cracked, then before bedtime, lubricate your feet with a baby fat cream and put on socks.
15. In order to achieve the effect of curly hair in the morning, try to wash your head in the evening, and slightly damp hair to braid in a no-ear spikelet. In the morning, open the pigtail and shake the hair.
16. Nail polish will last longer if you use a base and fixer.
17. Acquire vitamin A in the pharmacy and lubricate them with lips to prevent cracking.