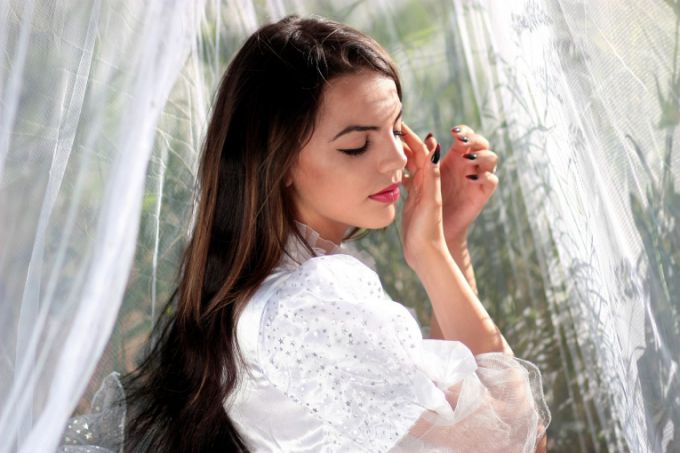 Действенные средства для роста волос можно приготовить в домашних условиях, не переплачивая фармацевтическим корпорациям. Чтобы получить результат с наименьшими денежными потерями, необходимо всего лишь подобрать тот тип маски для волос, который подходит для конкретного типа волос.
Mask for hair growth based on cinnamon
Для приготовления этой маски 1 ч.л. молотой корицы необходимо растворить в 3 ст.л. теплого кокосового масла. Массу можно не настаивать, а сразу наносить на кожу головы непосредственно перед мытьем.
Чтобы увеличить эффект, масляную основу втирают в кожу головы легкими круговыми движениями. После, голову необходимо укутать полиэтиленовой шапочкой и оставить на полчаса, после чего смыть мягким шампунем.
Visible result mask gives three months of regular use.
Экстра-маска для роста волос на основе лука
Onion masks are deservedly popular, as the most effective way to quickly increase the density of hair.
Для ее приготовления используется половина луковицы и репейное масло. Луковица натирается на мелкой терке или доводится до состояния кашицы в блендере. После смесь разводится тремя столовыми ложками репейного масла. Лучше выбирать чистое масло без дополнительных экстрактов.
The mask is applied to the scalp with light circular motions. It is important to remember that at the first application, unpleasant tingling sensations can arise. If the burning is unbearable, the composition should be immediately removed from the hair.
Для улучшенного эффекта массу оставляют на 40 минут, после чего смывают мягким шампунем.
It should be remembered that onion-based masks are contraindicated to owners of weak, prone to hair loss. In this case, the active substances can lead to the opposite effect – a sharp fall of weakened hairs.
Mask for hair growth with ginger
Ginger has a strong nutritional effect on the hair follicles. At the same time, the active components of this curative root contribute to an improved inflow of blood into the scalp region, which positively affects the density of the hair.
Для приготовления этой маски для роста волос необходимо очистить 2-3 см корня имбиря, тщательно промыть, натереть на мелкой терки. Получившуюся кашицу следует смешать с 2 столовыми ложками масла жожоба и дать настояться в течение 20-ти минут.
After the mass is applied to the scalp with light massaging movements. Keep the mask on your hair is necessary until 40-ka minutes. However, if the skin is burning, you must immediately wash the composition off the hair.
Mask for hair growth with brandy
Основные компоненты этой маски – мед и яйцо. Коньяк используется для увеличения притока крови к фолликулам.
Для приготовления необходимо взять 2 ст.л. натурального жидкого меда и нагреть его до комфортной температуры в микроволновой печи. Далее к нему добавляется взбитое яйцо и 1 ч.л. коньяка. Компоненты необходимо тщательно перемешать до однородного состояния и нанести по проборам по всей коже головы.
После голова укутывается полиэтиленовой шапочкой и полотенцем. Маску необходимо продержать на волосах в течение часа, после чего смыть.
Mask based on garlic and honey
To prepare this mask you need to take 2 st.l. natural honey and melt it in a water bath. Next, 2 cloves of garlic, crushed with a press, are added to it. The resulting composition can be enriched with coconut or castor oil.
Получившаяся смесь наносится на кожу головы за полтора часа до мытья волос. Повторять маску необходимо не чаще одного раза в неделю. Помимо густоты волос, такая маска интенсивно питает ослабленные волосы.