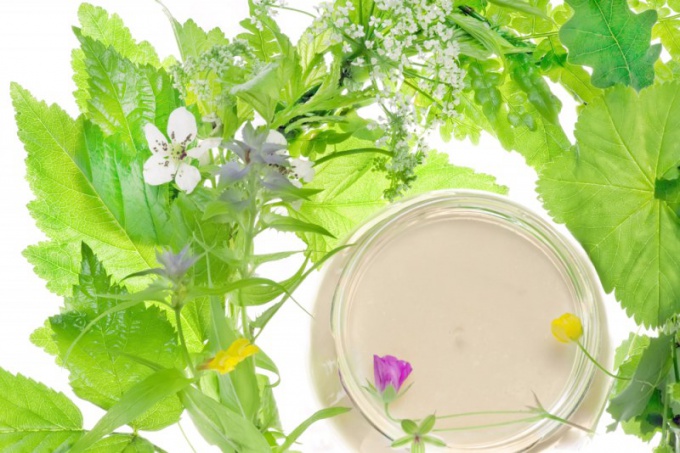 Cosmetics labeled "natural", enjoys constant demand among consumers who care about their health, do not accept anything chemical and synthetic. Thanks to a thoughtful marketing company and advertising stamps, many people are fully confident that cosmetics on a natural basis should not contain artificial components. In fact, this is far from true, one hundred percent natural cosmetic product can now be found only in advanced beauty salons. Here, natural cosmetics are manufactured in very small quantities for immediate use. Since there are no preservatives in it, it is not stored for long, and it certainly is not available for sale on the shelves of stores.
Cosmetics on the basis of natural components, having a long shelf life, which are available on free sale, are produced using preservatives. Of these, the most natural are products in which plant extracts of essential oil or alcohol are used as preservatives. The shelf life of such cosmetics, as a rule, does not exceed 6 months, they should be stored with strict adherence to certain rules.
Emulsion and emulsifiers
Water-fat emulsion of various consistencies is the basis of most cosmetics. Due to the natural properties, the interaction of water with fat, no cosmetic product can be used without an emulsifier. In the ordinary cosmetics в эмульгатор добавляют вещества, придающие косметическому средству цвет, запах, густоту и стабильность. В стопроцентно натуральной косметике все эти компоненты должны иметь природное происхождение. Но природные эмульгаторы, как и консерванты, не имеют достаточной эффективности и являются благотворной средой для размножения всевозможных бактерий. Поэтому для возможности использования природной эмульсии опять же требуются надежные консерванты. Сейчас самым натуральным косметическим эмульгатором являются фосфолипиды, на основе которых получают так называемую ламеллярную эмульсию.
Oils and other components
Another indispensable component of cosmetic products are all kinds of oils, which can be both vegetable and synthetic. Of course, there is an advantage over biologically active natural vegetable oils, which is confirmed by laboratory studies and long-term experience of traditional medicine. But cosmetics, produced on the basis of untreated vegetable fats, without the use of additional components does not have the right consistency and structure, leaves a greasy shine and is poorly absorbed. In addition, as a result of oxidation, which is easily amenable to vegetable oils, they can turn into a health hazard peroxide oil.
Vegetable polymers produced by microorganisms are used in natural cosmetics as thickeners. Natural essential oils are used as fragrances.
From all of the above, we can conclude that all components can be really natural. However, due to the technical complexity of the process and the high financial costs, cosmetics made entirely of only natural ingredients are not made by any manufacturer.
Natural emulsifiers are very expensive and do not have sufficient stability, the natural emulsion is too fatty and poorly absorbed, other components also require additional processing. Therefore, technologists have to combine natural components with synthetic ones, which makes it possible to produce a safe, high-quality and visually appealing cosmetic product. A completely natural component in this kind of cosmetics is only extracts of nutrients obtained from plants. But even here, solvents, such as alcohols or propylene glycol, are used in the extraction process.
Summing up, we can say that there is no completely natural cosmetics. By this phrase should be understood the technological process that allows the most qualitatively combine natural natural components with artificial ones.