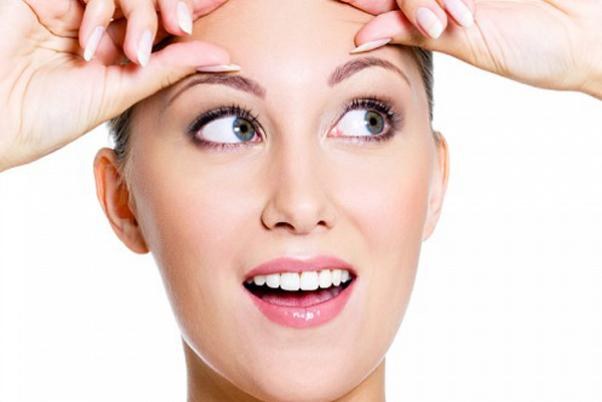 The first and barely noticeable wrinkles can appear on the face already at a young age. These are facial wrinkles that arise as a result of frequent muscle contractions in the areas of the nose, forehead, around the eyes and give themselves out even with a small smile. Unfortunately, there are no prescriptions for eternal youth, but there are several correct ways to combat mimic wrinkles.
Косметологические процедуры в борьбе с мимическими морщинами
Cosmetic procedures are the most effective methods of combating facial wrinkles. Very often, specialists remove facial wrinkles on the forehead, near the nose and around the eyes with the help of botulinum toxin, which is introduced into the problem areas. In this case, the nerve endings are blocked, through which the signal passes from the brain to the muscles. Mimic muscles stop moving, wrinkles disappear. After the introduction of Botox, the effect appears immediately, and the skin becomes more beautiful and younger. But here there are some nuances: the facial expression becomes less pronounced, the duration of the drug is from six months to a year.
Мезотерапия – еще один действенный способ борьбы с мимическими морщинами. Специалист вводит под кожу специальный препарат, который содержит в себе витамины, полезные и биологически активные вещества. Введение омолаживающего коктейля запускает и ускоряет выработку гиалуроновой кислоты и коллагена. За счет увлажняющих способностей мезотерапия повышает тургор клеток.
Домашние средства от мимических морщин
So, the first thing you need to learn to control your facial expressions. Fight with grimaces that have become a habit, not too late, but necessary. With systematic work on yourself, the first results will be visible within a month. Daily exercise for the face. Puff and draw your cheeks, articulating the sounds "and", "s", "a", "o". Rotate your eyes, tense your chin. Strong facial muscles will allow you to maintain the elasticity of the skin.
To combat mimic wrinkles, the following method is perfect. Heat any vegetable oil on a water bath. Dip the gauze and squeeze it gently. Put it on your face, put a warm towel on top, leave for twenty minutes. After the procedure, wash with warm water. For a better effect, wipe the skin with an ice cube of chamomile broth. In the end, lubricate your face with a thick cream. It is recommended to perform this procedure once or twice a week. Soon, from the mimic wrinkles there will be no trace.
Every morning, massage your face. To do this, apply olive oil or any fat cream to the skin. Rub fingers and palms to make them warm. Then press the index and middle fingers of both hands on the problem areas of the skin, hold for three to five seconds. Then massage your face with neat circular movements on the massage lines. Click on the outer corners of the eyes and the points located at the wings of the nose. Do not forget to eat and drink as much as possible of purified water, which is a companion of beauty and skin health.