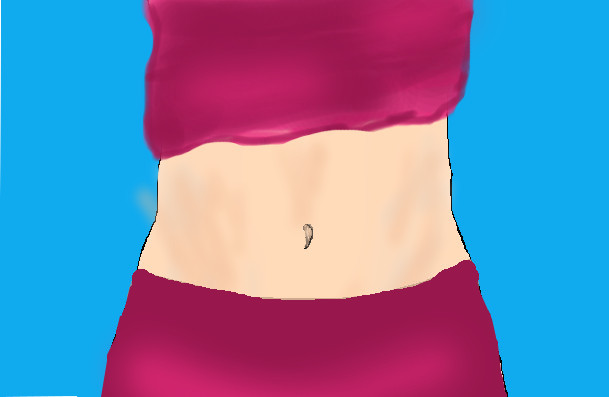 When the time had passed after giving birth, the stomach tightened, a waist appeared, many women continue to worry about the condition of the skin on the stomach, which still, despite all efforts, remains flabby and forms ugly small wrinkles. This is a common problem, which, meanwhile, is being solved, although the process of skin regeneration is very complex and lengthy.
Start the process of restoring the skin after childbirth should be with a review of their lifestyle and diet. A common mistake of a woman is strict diets, with which young mothers try to regain their old forms. As a result, the body of a woman loses nutrients, especially if such diets occur during lactation, it slowly breaks down, since the necessary proteins, fats, carbohydrates, vitamins, micro- and macronutrients, amino acids cease to come from food. The body experiences additional stress, and the appearance of the young mother becomes only worse: brittle dull hair, crumbling teeth, exfoliating brittle nails, flabby stale skin.
That is why, at the beginning of the struggle for beauty, it is necessary to abandon any kind of diets and balance your diet. First and foremost, enrich your daily menu with a variety of vegetable oils, choosing unrefined and unheated forms. Useful:
Sunflower,
olive,
corn,
pumpkin,
lychedeel,
кунжутное,
Linen Oil.
Vitamins and fatty acids, contained in vegetable oils of cold pressing, have a beneficial effect on the skin condition and health of the body as a whole. Also in the diet should be present daily in abundance vegetables and fruits. During lactation try to choose green vegetables and fruits of light varieties with low allergenicity. If you do not breastfeed, eat any vegetables and fruits to your taste. The main condition, all these products are best used in fresh, raw form, or cooked steamed or baked without butter on the grill or in foil.
Non-vegetarians can be included in the menu fish fatty varieties, poultry, eggs. From the use of red meat is better to refuse, since such nutrition adversely affects the elasticity of the skin. And here Milk and dairy and sour-milk productswill be very useful, along with beans, nuts, seeds, seaweed. Completely refuse fried, marinades and smoked products, avoid eating canned food, semi-finished products, chips, crackers, confectionery. From the flour stop on unleavened bread from seedlings and seeds, products from unleavened dough.
Increase skin tone will help shower, контрастный или прохладный. Также полезны massageusing aromatic oils or special creams. From essential oils attract attention to the property of pulling loose flabby skin:
orange,
verbena,
grapefruit,
jojoba,
lavender,
lemon,
mint,
neroli,
chamomile.
Also useful Wraps with the use of sea salt, honey, algae, essential oils and special creams. During the procedure, you can do physical exercises or lie, wrapped in a warm blanket. Thus, lymphatic drainage occurs, which improves skin condition, smoothing and leveling it. Also to improve the condition of the skin, oil-dispersion ванны по методу Юнге. On sale you can find a special apparatus for the procedure at home. The bath by Jung's method also includes underwater massage with brushes, which has a positive effect on the skin condition.
To help make cosmetic procedures necessary physical activity. It can be long walking or biking, swimming, yoga. During pregnancy, not only the skin but also the muscles are stretched. And to restore after childbirth it is necessary both that, and another, as the smooth elastic skin can be only on a strong muscular skeleton. At the same time, there is no need to pump up your press to cubes, as the aesthetics of such a woman's belly causes a lot of controversy. The process of restoring the skin after childbirth is quite long and can take up to six months, although a positive dynamics will begin to manifest itself through 2 – 4 weeks, provided a comprehensive approach and regular work with the body. However, this method is worth trying, before deciding on a simpler, but also more risky plastic surgery – abdominoplasty.